Riviera, Chicago
Monday, November 22, 2010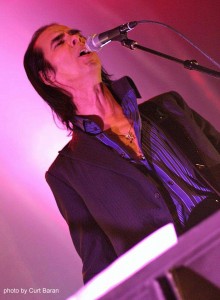 The mid-life crisis is usually personified by the sports car, a younger girlfriend, and the divorce that follows said paramour. Unless you're Nick Cave. The lead singer of The Bad Seeds and The Birthday Party has addressed his growing years by staring them down and assembling a band that puts people half his age to shame.
Grinderman showed up at a near-capacity Riviera in support of their second album, Grinderman 2, and it was immediately apparent that they would not play nice. Unlike his Bad Seeds, which have always taken a more methodical and orchestral approach to songwriting, Grinderman is less about structure and all about feel.
Abetted by some of those Bad Seeds cohorts (bassist Martyn Casey, drummer Jim Sclavunos, and multi-instrumentalist Warren Ellis), the players attacked the songs — and occasionally each other — like a sweaty herd in a Fight Club basement. Opener "Mickey Mouse And The Goodbye Man" set the evening's pace: channeling pure unadulterated id, Cave flailed, preened, prowled, and growled at the foot of the stage, immediately eliminating the imaginary barrier between audience and performer. Human contact was a near constant, but the intimacy was not of the romantic variety.
Grinderman's songs are littered with characters who reside in life's shadows and fog. Werewolves, heathens, and "worm tamers" all battle for the affections of lesser, broken men. And in classic role reversal, the women are usually the predators and their catch are just trying to keep their limbs, carcasses, and dignity intact. More often than not, the pursued fail miserably.
During performances of "Heathen Child," "Get It On," and "Evil," Ellis assaulted his instruments (at any given moment a guitar, violin, or a phalanx of distortion pedals) with malicious intent, literally throwing himself into his performance. Jim Sclavunos' slammed out thunderous undercurrents, galloping with metronome precision between tom rolls and bass-drum kicks. As stoic and statuesque as his stage presence, Martyn Casey's basslines were as calculating as the business end of a single steel blade, all lacerating skin-scrapes and no lingering conscience aftertaste.
But for most of the night, Cave was the magnet the eyes couldn't escape. Part shaman, part carnival barker, his investment in the material never wavered. Whether he was indulging himself in blues-based double entendres like "I want stick my fingers in your biscuit jar/And crush all your Gingerbread Men" ("Kitchenette") or pleading for some play on "No Pussy Blues" ("I bought her a dozen snow white doves/I did her dishes in rubber gloves/I called her 'honey bee'/I called her 'love'/but she just still didn't want to . . . damn!"), his conviction could simply not be questioned. If this is indeed his halfway point before shuffling off this mortal coil, his twilight years promise even more intoxicating nightmares.
— Curt Baran
Category: Featured, Live Reviews, Weekly