Chicago Theatre, Chicago
Thursday, September 23, 2010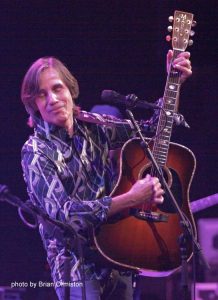 Jackson Browne started Thursday's concert at the Chicago Theatre like a semi-truck navigating rush-hour traffic on the Eisenhower.
While Browne and long-running wingman David Lindley kicked off a one-night stand with a thoughtful acoustic set full of insightful lyrics, it fell flat. A good chunk of the crowd was still figuring out how to balance their plastic wine cups and find their seats. Once situated, the mellow session was a slow starter and left many trying to figure out what was going on during intermission.
His band of nearly 20 years finally made its appearance an 75 minutes later with "Off Of Wonderland," and got the crowd involved with "Giving That Heaven Away" and "Just Say Yah," a song about Jackson's longtime girlfriend. "In The Shape Of A Heart" continued weaving the audience through his 40-plus years in the business and showed why he's sold 17 million albums. At almost 62, Browne seems comfortable in an ugly untucked shirt that had to be some ongoing joke between him and Lindley.
Browne and the band dug deeper into a song bag of 18 albums, spinning tales from "The Pretender" to "My Problem Is You" and "Too Many Angles." His interaction with the audience, intending to tell his stories like the sequence of a good album, turned into an obnoxious call-out request night. The problem with the great acoustics and living-room feel of the Chicago Theatre is that it gives the same knuckleheads who scream "Freebird" everywhere else a voice. Browne tried to explain, in a good-natured exchange, that there is a rhyme and a reason for his song selection, by laying out the nights journey. They would have none of that. It's always a few of the zealots that end up standing out and Browne relented. He changed gears and cranked out "Rock Me On The Water" like a true pro, but at this point he couldn't get back on the night's path.
For those few of the web generation in attendance, it wasn't their night. While as good intended as the gesture and teaching moment this could have been, they had to wait till "Running On Empty" before things clicked. This 1978 hit certainly is relatable to them, even though it was one of their parents' anthems. Browne's gripping melodies and insightful lyrics along with his kicked-back and casual California style will get a few of his songs on some younger iPods. They were probably just yawning all day in school when they recapped the night.
No one leaving the theater close to 11 could say that they didn't get their money's worth for the three-plus hours of showtime. Browne's voice hasn't changed much from his album days and he did a great job making Chicago feel like it was the only stop on the tour. He, as the song says, got 'em to smile before he left. It was just a strange night.
— Brian Ormiston
Category: Featured, Live Reviews, Weekly