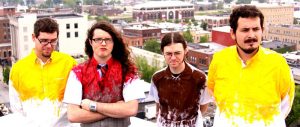 Champaign-based Elsinore's new album, Yes Yes Yes (Parasol), is already in stores (cover art and all!), but we're offering you a chance for two tix to their Lincoln Hall release party on the 20th.
In many ways, this will be like the first time you've ever seen Elsinore, because Yes Yes Yes completely revamps their sound. Despite its enthusiastic title, the record bypasses the provincial folk pop of prior efforts and takes a turn for the serious. Singer Ryan Groff, still the songs' focal point, doesn't so much dial down his energy as transfer it. Of course, mentions of Radiohead in press materials tend to overplay that angle — it's an undeniable stylistic shift, not an unfriendly one — but from opener "Landlocked" down the line you get the sense Elsinore won't be satisfied just making records and going on the occasional tour.
What do you have to do to get in? By 6 p.m. on Thursday the 19th, be the first to correctly tell us which vehicle manufacturer produced a conveyance called Elsinore in the '80s. Send answers to ed [at] illinoisentertainer.com.
— Steve Forstneger
Click here to download the title track to Elsinore's new album.
Category: Contests & Giveaways, Featured, Stage Buzz, Weekly