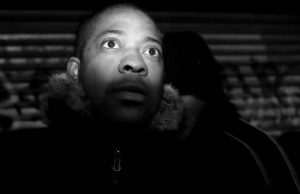 Late hip-hop artist Camu Tao had his hand in enough collaborative projects over the years (Nighthawks with Cage, Central Services with El-P, etc.) that most heads never viewed him as a soloist. But on King Of Hearts (Fat Possum/Def Jux), an album recorded before he lost his battle with lung cancer two years ago, Camu reinvents himself with his official debut – so much so that it's hard to now describe him as a "rapper."
Sure, the bouncy "Major Team" and select tracks still see Camu flip a slick, rapid-fire flow some may recognize, but consider that the album begins with him singing on the heavily '80s-influenced quirky pop cut "Be A Big Girl." From there, the producer/vocalist brings his best hand-clapping new wave jam with "Bird Flu" and then gets frantic with the future shock of "Get At You." King Of Hearts can sometimes be off the wall, but not head-scratchingly so.
At his strongest (see "The Perfect Plan"), he couples his love for low-tech but perfectly catchy production while sharing moments from relationships and everyday life. Even though Camu was still testing the waters with his vocals, you appreciate the unrestrained quality of the music throughout. It's impossible not to think of what Camu Tao could have created if he was still here, but his debut should be celebrated for the accomplishment that it is: one of the more exciting solo debuts from an indie hip-hop act in awhile.
8
— Max Herman