The Man With No Name Trilogy
MGM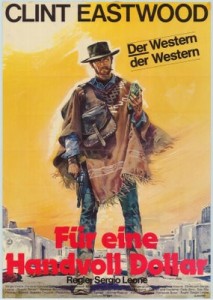 For a good part of film history, the western genre always seemed curiously out of place. Not because it wasn't worthy subject matter, but because the execution never seemed right. The settings, old-timey enough to be sure, but too clean, too pristine to be believable. The heroes and villains were clearly defined, creating the cliché of the bad guy in the black hat, and the good guy in white (and with a surprisingly large collection of neckerchiefs).
Yet in the early to mid-'60s, the "Spaghetti Westerns" changed all that. Financed by Italian producers, shot mostly in Spain on modest budgets, and sporting a cast of either fading Hollywood stars or young up-and-comers, the western suddenly looked real. The good guys were nowhere near virtuous, and the bad guys were just downright nasty. Not to mention, the old west was suddenly dirty, and I mean grit under the nails, sand in the shorts dirty. Exactly what you'd expect in a world without indoor plumbing.
Of all the Spaghettiers, it was director Sergio Leone that rose to the top, thanks in no small part to his casting of a young sprout by the name of Eastwood for his "Man With No Name" trilogy. A Fistful Of Dollars, the first film in the series and itself a remake of Akira Kurosawa's Yojimbo, finds Clint playing two rival gangs against themselves for control of a tiny town, all because there's money to be made. The second, For A Few Dollars More, pits Eastwood against a rival bounty hunter played by Lee Van Cleefe as they pursue the most wanted man in the land. And finally, The Good, The Bad, And The Ugly again features Eastwood and Van Cleefe (a different character this time, though) with Eli Wallach thrown in as the comic relief, on the trail of some stolen gold.
Now, all three films are available on Blu-Ray in box-set form. While the actual film transfers aren't quite stunning, they're awfully close, considering the quality of the original '60s film stock. Best of all, each film comes jam-packed with special features; so much so that to list them all in detail would make this a two-page treatise. Suffice to say, phone in and get some time off work before diving into them.
Fistful: ***1/2 Features: ****
Few Dollars: *** Features: ****
Good,Bad,Ugly: *** Features: ****
Stones In Exile
Eagle Vision
Funny how things now regarded as classics were not well-received on arrival. Van Gogh was regarded as a hack who never sold a painting in his lifetime, Dustin Hoffman was called "dull & uninteresting" in The Graduate, and Exile On Main Street recieved mixed reviews, with the general consensus being it was too overblown and disjointed.
Now, of course, it's not only regarded as the Rolling Stones' best album (go ahead, argue all you want), but as one of the greatest albums of all time.
Upon its 40th anniversary, the set has not only been remastered and rereleased, but Eaglevision drops Stones In Exile, an exhaustive account of the the album from concept to release. With interviews and musings from all five Stones, as well as thoughts from others such as Martin Scorsese, Exile engineer Andy Johns and more, every aspect of the album is exposed. From the drinking and drug use, the the un-air conditioned environment of Keith's French estate rented just to set up a studio so they could record whenever the mood struck — it's all here.
At two and a half hours, it's a bit much, but if you're the person who needs to know all things Stones, it doesn't get more complete than this.
Film: *** Features: **1/2
Also available . . . There's a pattern emerging with U2: Do a tour, release a DVD. U2: 360 At The Rose Bowl continues the trend by presenting the band's most recent tour stop at Pasadena's most famous New Year's Day destination. For the 360 tour, the band again indulged their grandiose impulses by playing massive stadiums under a giant, claw-like thing. The claw seemed to serve three purposes — hang the circular video screen, dwarf four Irishmen, and generally be a B.F.T. (Big Fuckin' Thing). The concert footage itself is acceptable, albeit a bit dark and muddy at times, but the special features are many, including two segments on the tour's opener here in Chicago.
— Timothy Hiatt
Category: Columns, Digital Divide, Monthly