Blues Soldier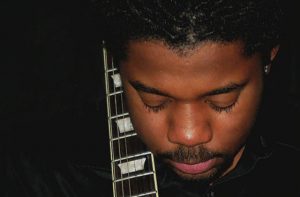 The Simpsons Sing The Blues was Chris Canas' first blues CD purchase. The 1990 album, featuring the infamous "Do The Bartman," qualifies as an extremely unusual pick for an accomplished blues musician like Canas, but it's an intriguing reflection of his background. The Detroit-born singer/guitarist/cornetist's introduction to the blues came with his uncle blasting B.B. King's "The Thrill Is Gone" from his Camaro. "I was about 9 or 10 and I decided then that I would play the blues after I heard that song," he says. King's searing guitar leaps from The Simpsons Sing The Blues as did piano solos from another blues legend, Dr. John. For a kid born in 1984, the album was the era's essential blues lesson.
"I learned the blues on my grandfather's two-string bass," says Canas. "My mother saw what I was doing with only two strings and said, 'Let me see how you play with a whole guitar.'" The answer is a whole lot. Canas produced his first album, Shades Of Blue, at 16; was playing weekly live sets at a local nightclub by 17; and formed his band The Chris Canas Blues Revolution at 18. His recently released fifth record, She's Breaking Me (C2), demonstrates well-earned depth and soul as well as Canas' smoothly evocative vocals.
Opening with the uptempo urban blues of "Crank Dat Blues And Drive," the 11 originals showcase his catchy songwriting and the Blues Revolution's tight playing. "Trouble In Paradise" serves a convincing tale of suspicion powered by soulful belting and engaging storytelling. Other standouts feature Canas' heartfelt vocals that seem to reach down into his guts, pouring out pain. "Who The Hell Are You" crackles with melancholy and the title tune kicks up irresistible, funk-filled guitar riffs accented with palpably despondent belting. There's a fresh switch midway through, with "Fine As Wine" background vocalist Angie Cottingham singing lead with breezy, light vocals. The fact that Cottingham is Canas' mother adds a whole other, new-millennium Partridge Family aspect to the sound.
"Some of the lyrics can be weird to sing with your mother," Canas explains of why he doesn't typically broadcast who she is. "People usually assume that's she's my wife and that I'm at least 40," he says. (Canas' wife often photographs live gigs while his 4- and 5-year-olds sing along and monitor his band cues.) "My music is very family focused — it doesn't have a lot of profanity or dark subjects."
Canas live also straddles a wide spectrum of genres, including soul, country, and rock. He finds he usually has to tailor his sets to audience preferences and, in the Michigan clubs where he regularly plays, that rarely includes blues. "I have to adopt a lot to the listener's tastes," he says. "A lot of times they aren't open to the blues." That's the reason that Canas likens himself to a blues soldier. He feels that he has to battle to get people to listen to the music. "I mix in a lot of genres to entice people into listening," says Canas. "I'll play something like Stevie Wonder's 'Superstition' then slide into one of my songs. They give it more of a chance when I mix in with something else first."
With a list of diverse influences that include Prince, B.B. King, Al Green, and Travis Tritt, Canas colors his sound with traces of soul and funk but it's still clearly the blues. "My ultimate goal is to keep the blues alive. I feel like its current state is similar to if you made some Kool-Aid and didn't put enough sugar in it. It's just barely out there. I want the blues to be on the radio all the time, I want to be in videos and movies. I just love it. I absolutely love it."
BLUES FEST: A little shorter this year, but here are the must sees:
Taildragger: A classic urban-blues showman with a distinctive voice, be sure to catch this Arkansas-born belter, said to have received his name from Holwin' Wolf for always being late to shows.
Zora Young's Tribute to Wolf and Sunnyland: With the passing of Koko, there just aren't many great woman blues singers out there, but the Mississippi-born, gospel-bred Young is one of the few.
Sugar Blue Band: Grammy Award-winning harp wizard Sugar Blue puts on a show that's not to be missed: blazing riffs and great storytelling combine for a singular sound.
David "Honeyboy" Edwards: One of the last remaining Delta country-blues singers, Edwards' 70-odd years of living history is alone worth a listen.
Chicago Blues — A Living History: A can't-miss jam between Billy Boy Arnold, Billy Branch, John Primer, Lurrie Bell, and Carlos Johnson.
Bobby Rush: A renowned live performer, Rush's brand of flamboyant, soul-tinged blues will mesmerize.
Vivian and Vance "Guitar" Kelly: Classic and precise Chicago blues guitar from Vance and rousing blues singing by daughter Vivian are guaranteed to be a treat.
— Rosalind Cummings-Yeates
Category: Columns, Monthly, Sweet Home