Three Decades Of Rock 'n' Roll Roots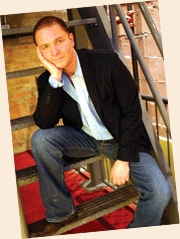 Congratulations are in order for WDRV-FM (97.1) midday host Bob Stroud, who recently celebrated 30 years of "Rock & Roll Roots," which airs Sunday mornings from 7 to 10.
It's all the more impressive when you realize Stroud has kept it going through a career that's had him at near every rock station in town: WMET, WLUP, WCKG, CD-94.7, and WXRT.
Ironically, the show's only hiatus in 30 years took place when Stroud was at classic rock WCKG-FM (105.9). "From September of 1993 to March of 1995 when I 'exited' the station, the show was dead in the water," Stroud said in an e-mail message. "Management was very narrow-minded at that particular outlet and the station continually suffered from anemic programming pretty much around the clock. Every other station has been open to letting the show air with my sensibilities behind it. Even WMVP-AM 1000, an all-sports AM station, aired it on Sunday mornings!"
Stroud — a former rhythm guitarist for The Cryan Shames — says the show has endured because it has evolved over the decades.
"I've had to change with the times over the years and modify the show to still be listenable to an ever-changing 25 to 54 demographic," he said. "Where the show began as a hardcore oldies show, it's now more of a deep tracks/classic tracks/ oldies show."
But even he can tire of the oldies. "Don't get me wrong, I love the '50s, '60s, and '70s as much as the next Baby Boomer, but I have also always loved new music. There's no greater thrill than finding a new artist or CD that brings you the kind of euphoria that you originally experienced as a teenager or 20something. I wish more Baby Boomers were open to discovering new music, but we sure get lazy and stubborn the older we get. I actually argued with a fellow Boomer not long ago, who insisted that music stopped being good after 1971."
Stroud is currently taking requests for Volume 12 of the "Rock 'N' Roll Roots" CD series, which will hit the shelves at Borders in early November. Submit your favorites (and check out the playlists for volumes 1 to 11) at www.wdrv.com/rocknrollroots.php.
MUCKRAKING NOT DEAD: We've been a bit obsessed with ProPublica ever since "This American Life" aired a piece in its engaging-but-painstaking seven-month investigation into the housing crisis and the role of a hedge fund that bet against the toxic financial securities it helped create. The piece included a Broadway-esque song about CDOs (collateralized debt obligations) written by Robert Lopez (the co-writer of "Avenue Q", who is writing a new musical with "South Park" creators Trey Parker and Matt Stone); you can hear it at Thislife.org.
ProPublica's 32-person investigative team in a New York newsroom is headed by former Wall Street Journal managing editor Paul Steiger, and former New York Times investigative editor Stephen Engelberg. Its primary funder is The Sandler Foundation.
They also investigated political fundraising at two Bruce Springsteen concerts last year, after the United States Supreme Court overturned limits on corporate election spending (basing its decision in part on the idea that campaign-finance records are more easily accessible than ever before).
ProPublica learned that some lawmakers paid thousands of dollars to lease skyboxes from companies affected by the subcommittees they sit on — received fat campaign contributions in return. But they learned next to nothing about who paid big bucks to get some face-time while watching The Boss.
"At best, we ended up with a handful of possible attendees. At worst, we were left with no clues at all," wrote Sebastian Jones; a version of the article also appeared in the Washington Post.
ProPublica's latest project is tracking the largest domestic spending bill in U.S. history. More at www.propublica.org.
ODDS 'N' SODS: WBEZ and Vocalo.org's parent company, Chicago Public Radio, recently changed its name to Chicago Public Media. Plus it hired a new chief operating officer, Alison Scholly — the former vice president and general manager of Tribune Interactive. Think they're moving towards the new media? . . . Legendary rock 'n' roll broadcaster Dick Biondi recently celebrated the 50th anniversary of his start on Chicago radio, at WLS in 1960. Yet the 77-year-old icon — who was one of the first to play rock music, and the first to play The Beatles on American airwaves — is not on the air. Meanwhile, convicted felon and former Chicago City Clerk Jim Laski continues to host weeknights on WGN-AM (720). I bet he never wrote a parody song as good as "On Top Of A Pizza (The Pizza Song)" . . . Satellite-radio fees have skyrocketed in recent weeks. A call to XM revealed the increase had to be approved by the FCC, because XM has not been allowed to raise prices since its merger with Sirius. The reason for the exception? So they could cover the new U.S. Music Royalty fees. At least that's what they told us. I'm shifting to the sports-and-news subscription, which is $9.99 a month. That'll show 'em!
– Cara Jepsen