Toyota Park, Bridgeview
Saturday, June 26, 2010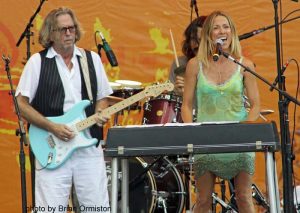 Eric Clapton called in enough favors Saturday to make Bridgeview the one-day center of the musical universe.
The epically long day at Toyota Park is to benefit the Crossroads Centre in Antigua he founded in 1997. The Clapton team managed to put together an all-star lineup that mixed genres of music, age, and gender into a memorable day. On what was a sticky, sun-soaked Saturday, anyone not lobbing on a good half-quart of sunblock found themselves looking like a lobster before ZZ Top finished their set.
The event cranked up around noon with Sonny Landreth and wound its way through ZZ Top, Sheryl Crow, Vince Gill and Earl Klugh, John Mayer, Buddy Guy, and Ronny Wood played along with a great performance by Jeff Beck, to name a few.
Some of the highlights:
ZZ Top winding up the afternoon crowd doing the Hendrix classic "Foxey Lady."
Master Of Ceremonies Bill Murray in a striking Elvis get-up.
Sheryl Crow and her pearly whites strolled out looking cougarish. She proceeded to rip it up for the good part of 30 minutes on her own, before enticing the day's host to come out and stretch out a bit. Crow bounced in and out of various sets most of the day, clearly enjoying herself.
The big man of country music Vince Gill playing the country twist of Clapton's "Lay Down Sally."
A concert marathon that runs on time? Unheard of in this industry. Kudos to the Clapton people!
Heavy and hard rocker Jeff Beck playing his version of "Over The Rainbow."
Ronnie Wood, Jonny Lang, and Buddy Guy jammed for a good 40 minutes with a show that can't help but boost Guy's business at his South Loop club.
Bill Murray dressed as Jimi Hendrix.
John Mayer can flat. out. bring it. Taking stage around the cocktail hour, he ripped off a 30-minute set that tore into more than a few eardrums. He won the contest for best facial expressions and clearly had to win best-of-show with any female in the audience.
Clapton and old bandmate Steve Winwood hit the stage around 8:35 and played 'til the ears needed a rest. They ripped up "Cocaine" and "I Shot The Sheriff" much to the delight of the 30,000 who could still understand what was going on. Clapton looked a bit worse for wear, nonetheless he knows how to throw a party and there's never a doubt that playing playing guitar is just as natural as brushing his teeth.
The Lowlight:
Anyone would have struggled to follow the Winwood/Clapton set, but sending 85-year-old B.B. King out brought the buzz to a screeching halt. He is a legend, but it's about time to hang it up. His inaudible ramblings in front of that crowd at that time didn't add anything to his legacy.
In the end, this was a game of "Survivor Bridgeview": endure the searing heat 'til the cooldown of the evening; minimize the long lines at the cash station caused from $8 beers; avoid the $35 black concert T-shirt — not to mention the sweaty, drunk, old guy without his shirt on the blanket next door — and you won yourself a fun day.
— Brian Ormiston
Category: Featured, Live Reviews, Weekly