Hideout, Chicago
Saturday, April 17, 2010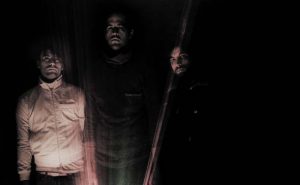 Comparing an electronic act to Kraftwerk is usually as helpful as dubbing an acoustic-folkie "Dylanesque," not to mention a lazy approach to ingesting a new artist's music. Guilty as charged, then.
Granted, there are other things going on the Chicago trio's full-length, Thrill Jockey debut and a Chinese tanker's worth of other references to drop (Depeche Mode, Mantronix, Junior Boys, Pink Floyd!). But Lazer Crystal's MCMLXXX (that's 1980, for those of you keeping score on your chalk tablets, which is also an abbreviation of the band's former incarnation) invites the comparison. Robotic voices and metallic sounds bound from the walls, "Tour de France" cuts pathways through "Lipp Service," and the whole of Computer World is practically a textbook. The break is in the undeniable punk influence that keeps the pedal pressed on "La Rouche," and the hometown, industrial melding that gives "Bad Indian" its menacing march.
— Steve Forstneger
Category: Stage Buzz, Weekly