Me, Myself, & I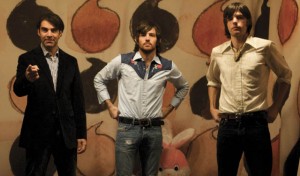 Bob Crawford thinks he holds the best job in the world — even if it means driving four hours through a sleet storm just to get home from band practice. "It's been just phenomenal for me. I get to collaborate with two of the greatest songwriters I know," he says over the din of shaky cell-phone reception and freezing precipitation beating on the exterior of his car.
Appearing: Sunday, March 7th at House Of Blues in Chicago.
His commitment to the call isn't surprising — it seems those Avett Brothers run a tight ship. They gleaned this work ethic by observing their father manage a welding business during their formative years and transferred this discipline to their music. Adding bass to Scott and Seth Avett's heart-tugging compositions when the trio formed in North Carolina, Crawford took some time to adjust to the protocol.
"Scott always tells people that when we first started out — we still do — we kind of run our band business the same way his dad ran the welding business," he says. "So, it's like that kind of idea of early-to-bed/early-to-rise and being on the job site when the sun comes up. In the early days of what we did, we would leave at 5 a.m. and no matter where we were we would get up at the break of dawn and make our way to wherever we needed to be. That's just something I think that's in their blood. I had to learn that," Crawford admits.
The dedication to craft sustained the genetically inclined harmonizing, banjo-friendly power ballad-writing band through four independently released full-length albums and two EPs beginning 2001. Near-constant touring earned The Avett Brothers a rabid fanbase scattered across the country and cemented the group's reputation as if not a live tour de force, then definitely a raucous good time.
Producer extraordinaire Rick Rubin (Johnny Cash, Red Hot Chili Peppers, Tom Petty) took notice and invited the boys out to his house in Malibu to woo them to sign with Columbia Records. "Rick has his ear to the ground. I think he found us on YouTube . . . and he sought us out," Crawford explains. "He's a very easy guy to meet — a very easy guy to talk to music about. He made us feel quite comfortable and very relaxed."
Taking a meeting with Rubin and hunkering down in the studio with the legend for months (and for that matter making the switch to a major label) are two different things. When the band made the decision to take the leap, call Columbia home, and put the making of I And Love And You into Rubin's hands — thereby relinquishing a fraction of its coveted control — the pressure was on.
"He doesn't intimidate you intentionally, but for the first couple of days it was hard for us. I think you put this pressure on yourself because he's there [and] you need to be better than you are. It took a couple of days to realize we just needed to be ourselves," Crawford recounts. "I think that we all got better because of that. I think we are better musicians now than before we made I And Love And You and before we worked with Rick. But, it did take a little bit, I think, for ourselves to get in the mindset that he's just a guy like the rest of us."
Because (or in spite) of Rubin's tutelage, The Avett Brothers' major-label debut retains the band's penetrating observations on the themes of family, romance, and the transition between the petty occupations of boyhood to the responsibilities of manhood. From the stuttering profession of affection in "Kick Drum Heart" to the resigned heart incapable of mouthing the three words people long for most in the title track, the album's universal truths cause the listener to wince as if 20 Band-Aids are being pulled off at once.
Setting up shop at the Document Room in sunny Malibu didn't affect the album's stoic mood. The abundance of Vitamin D failed to influence Crawford and his bandmates, who kept their heads down and noses buried in work. "True, you walk out of the studio to get some fresh air and you're looking over a mountainside of the Pacific Ocean and it's quite beautiful . . . but there was no pool time or martinis or daiquiris," Crawford says. "But, Rick let us be ourselves. He was very conscious of letting us do what it is that we do that drew him to us in the first place. And the advice he did have and the suggestions he did bring up were effective in a lot of ways and they were very gentle."
— Janine Schaults
For the full interview, grab the March issue available free throughout Chicagoland.