Standing Next To The Mountain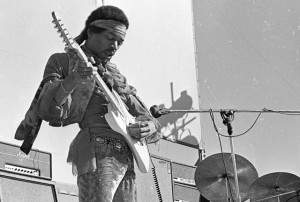 What can possibly be revealed about James Marshall Hendrix that hasn't already been articulated? Electrified innovator. Arguably the greatest axe slinger of all time. A guitar god gone too soon. An indelible legacy that will live forever. But even the most exalted of rock icons needs a fresh coat of paint, and this spring Jimi gets one thanks to an all-star tour of retro rockers and new-schooled six-string heroes.
Appearing: Thursday, March 18th at Chicago Theatre in Chicago.
Enter Experience Hendrix, the biennial, multi-act bill that turns four this year, channeling its namesake's genius through a marathon evening of individual snippet sets, one-of-a-kind collaborations, and an almighty jam session or two just to amplify the subject's superiority. And we're not just talking some questionable cover band, but a laundry list of remarkably authentic disciples, including Joe Satriani, Jonny Lang, Hubert Sumlin, Eric Johnson, Kenny Wayne Shepherd, Aerosmith's Brad Whitford, Doyle Bramhall II, the Isley Brothers' Ernie Isley, Living Colour, Double Trouble's Chris Layton, Sacred Steel featuring Robert Randolph, Susan Tedeschi, Los Lobos' David Hidalgo and Cesar Rosas, plus The Jimi Hendrix Experience and Band Of Gypsys' Billy Cox.
"The tour itself is just a fantastic coming together of talent, focus, and heart from everybody loving the music of Hendrix helping bring it together," says Satriani, a headliner in his own right. "It's difficult getting people from all parts of the music world to play together and pull it off, but the thing I love so much about Jimi's music is that even though it was written so many years ago, it's continuously unifying. We're all incredible fans on the tour and I think that magic hangs over everybody. It makes everybody pull together and complement each other the best they can, but quite frankly, we're all interested in checking each other out as well. It's a dream come true to be a fan and entertainer at the same time."
Another major player in the mutual admiration society is 28-year-old Lang, who, despite his relative youth, has performed with The Rolling Stones, B.B. King, Buddy Guy, and Aerosmith. Even with all those highlights, he cites the Hendrix tour as the ultimate destination for his technical prowess and unmistakable charisma.
"The biggest thing I draw from him is just his sense of melody and his approach is so much different than a lot of guitarists," Lang contends. "I obviously didn't know him, but it seems to me like he approached it from a melodic side rather than just trying to play fast riffs. Aside from being a great virtuoso, he was a genius musically. You hear a lot of innovation in his melodies, especially for that time, and in the overall structure of his songs."
While the majority of the artists were too young to ever collaborate with Hendrix or even meet him personally, Ernie Isley didn't just know the man behind the music, but they lived in the same house from 1963 to '65, just prior to finding global fame. While it's common knowledge to faithful fans, a lot of casual listeners might not realize Hendrix played guitar on tour for the Isleys during that time frame.
"Their guitar player at the time quit and my bother O'Kelly tracked him down," recalls Isley, who was in junior high at the time and hadn't yet joined the family troupe. "O'Kelly said, 'Can you play something for me?' and Jimi said, 'I can't because my guitar is in the pawn shop.' So they went down to the pawn shop and got the guitar back, but it turned out Jimi didn't have strings because he was broke. So O'Kelly got him strings and within three minutes, it was obvious he had the chops. So he came on board, but didn't have a place to stay, which is when he moved in with us."
Although Hendrix's talents were undeniable, his actual instrument was a little scruffy, according to Isley, which prompted O'Kelly to buy him a new one. "Jimi asked for a white Stratocaster, O'Kelly said yes, and Jimi said, 'Oh my God.' So he virtually came into the house with a brand new guitar, he didn't have to pay for rent, food, or laundry, and was just there like a member of the family. Of course the other guys hated him for it and they didn't see him until rehearsal, but when he plugged in, they said, 'Damn, he's star of the band now!"'
After his jaunt with the Isley Brothers and several other short-lived stints ended, a move to London resulted in the formation of The Jimi Hendrix Experience and also allowed the leader to be consumed by a rock 'n' roll explosion. Besides meeting members of The Rolling Stones, The Who, and Cream, Hendrix also basked in the blues scene. In fact, 78-year-old guitarist Hubert Sumlin, best known for his tenure with Howlin' Wolf's band, can testify to that greatness firsthand, thanks to multiple impromptu performances.
"You know I love Jimi and I loved him from the first day I saw him," Sumlin assures. "We met in London when [Wolf and his band] were playing Royal Albert Hall, and in walked Jimi straight to the bandstand with his earrings, big hat, and guitar. We were flying back to America the next day and Jimi came back with us on the plane and we did it again the next night at Radio City [Music Hall]. Wolf hugged Jimi, thanked him and said, 'You're all right. I hope you make a million.'"
An understatement, but a foreshadowing nonetheless as Hendrix quickly conquered the European market, later crossing over Stateside thanks to iconic appearances at 1967's Monterey Pop, 1969's Woodstock, and 1970's Isle Of Wight festivals. Throughout, The Jimi Hendrix Experience cranked out Are You Experienced? ("Purple Haze," "Hey Joe," "The Wind Cries Mary"), Axis: Bold As Love ("Little Wing," "Castles Made Of Sand," "Wait Until Tomorrow"), Electric Ladyland ("All Along The Watchtower," "Gypsy Eyes," "Have You Ever Been To Electric Ladyland"), and, later, the eponymous Band Of Gypsys live album.
"So I'm sitting in study hall, sometime in 1967, and the guys near me are reading about the Are You Experienced? album in a magazine and see that Jimi played with the Isley Brothers," Ernie recalls. "So everyone starts asking me about that and I say, 'Not only did I know him, but he lived in my house!' To which everybody asked, 'Why didn't you ever say anything?' The truth was, no one ever asked and seemed to just soak up all the information from what they heard on radio or in magazines. So then someone asked 'Who's better, Clapton or Hendrix?' and I said, 'Hendrix, not because of what you hear on the records, but from what I heard him play without an amplifier.'
"I remember being about 11 with my math and social studies book on the dining room table while he was playing guitar as an ambulance went by and he tried to make a guitar sound to match it. I relate to the person and continue to relate in a different way than virtually anybody else because of him living in the house and my older brothers being in the business. I can still remember playing kickball in the backyard and them hearing him and the band in the basement starting up 'Twist And Shout.' We'd all look at Jimi, and even though he might not be looking at you, he'd hit a note, sustain it, look around like there was something flying around in the room, then catch it, pick back up where he was in the song, then look over at you and wink."
On an academic binge, Satriani studied all the albums and bootlegs and came to the conclusion that Hendrix's talent was absolutely inbred and nothing that could ever be trained, properly mimicked, or copied to any notable degree. "[Growing up] when Jimi's music would come through the stereo speakers, I was transfixed and I couldn't figure out why I was feeling the way I did, but it was completely cathartic. 'What was that?' It got me started on my own journey that day of who I was and what I was doing, which eventually led me to pick up guitar. Technically the guy was so innovative in what he did and his technique was so amazing. He sounded like he never practiced a day in his life and that he was playing completely from the heart, making it up as he went along and it felt like he was doing it just for you. None of it could ever be learned at a clinic. All the musical and physical talent was so rare — one in a million, really."
— Andy Argyrakis
For more with Experience Hendrix artists, grab the March issue free throughout Chicagoland.