Murat Theatre, Indianapolis
Thursday, March 11, 2010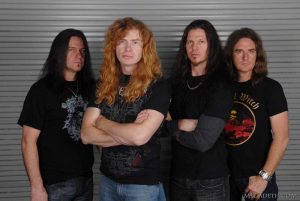 "We know why we're here, so let's stop fucking around." With that Dave Mustaine declaration, Megadeth launched into "Holy Wars . . . The Punishment Due" and Tom Araya was immediately forgiven for the American Carnage tour.
That tour would have (and still will: August 20th in Chicago) united Slayer, Megadeth, and Testament in a monumental cross-country ass beating. Dates were announced, storylines hyped (Will Kerry King and Mustaine get along?), magazine cover stories written (Decibel), and fans were ready to thrash. Then, Araya's back gives out, he goes under the blade, and American Carnage is done before it starts. Mustaine, though, felt carnage was still in order so decides to play Rust In Peace – Megadeth's skull-blowing 1990 masterpiece – in its entirety. Testament and Exodus are nabbed for openers, and Testament is convinced to play The Legacy in its entirety. And, just when you think the magic show is over, original bassist David Ellefson appears out of thin air. Suck it, Slayer!
Slayer and Megadeth together? That shit is sooooo 1991. It has happened already, and it will still happen – might even happen again if whispers of a Big Four tour are valid. Rust In Peace in its entirety? This could be once in a lifetime, brothers and sisters.
That said, imagine the frustration pang that trickled through the – seated?! – crowd in Indy as Megadeth's first notes didn't belong to "Holy Wars." For whatever reason, the band opened with a threesome of pre-R.I.P. tunes, but it's tough to be upset about "Set The World Afire" (Fuckin' A!), "Wake Up Dead" (Nice), and "In My Darkest Hour" ("Hook In Mouth" would have been preferred on this special occasion, but "Darkest" is cool too), especially when torn through with the ferocity Megadeth employed.
Maybe that initial trio of songs was simply a warm-up? Rust is, after all, a ruthless drillmaster that demands the utmost dexterity and endurance from its players. Thankfully, 20 years (and 20 members?) later Megadeth is still up to the task. Sure, Mustaine's vocals were hit ("Tornado Of Souls," "Take No Prisoners") and miss ("Five Magics," "Rust In Peace . . . Polaris"), there were technical flaws (sounded like that JFK International air-traffic controller let his kids run the mixing console), and Mustaine's-new-favorite-Megadeth-guitarist-ever, Chris Broderick, flubbed a few solos. In defense, though, no 48-year-old sings like he did when he was 29, P.A. issues happen, and those guitar solos were written by Marty fucking Friedman.
Besides, a theater full of fanatics was available for backup anytime Mustaine stumbled. Plus, minor flaws just didn't matter. A majority of the audience had never seen "Poison Was The Cure," "Lucretia," or even "Five Magics" live. If Mustaine marched out with Dude From White Lion on bass and ran through average versions of those songs, it would have been cool. The fact Ellefson was back and the band ripped through pretty-goddamn-good – occasionally blazing – versions was icing. There's a reason "Holy Wars" will always be on Megadeth's playlist, and that's because it's the most perfect song the band ever recorded. The album that carried it also happens to be the most perfect record Megadeth ever recorded, and to witness it executed in its full-shredding, start-to-finish glory onstage is a privilege for even a casual fan.
The whole thing was such a whirlwind of awesomeness it hardly seemed so when Mustaine said "That was Rust In Peace" and vanished off stage. The group came back, of course, but the proverbial wad had been blown. The band began the next half hour with "Headcrusher," a song just as clunky and awkward – it even fell flat in Indiana – as the President Obama jab Mustaine used to introduce it. But not even "Trust" could tarnish the show Megadeth put on before and after ("Symphony Of Destruction" and "Peace Sells") that horrible, horrible song. Megadeth isn't the Megadeth of 1990. (Or '92. Or '94. Not even '97), but in Indianapolis, it still devastated. And terminated. And denigrated. And permeated. 
You get the idea.
– Trevor Fisher
Category: Live Reviews, Weekly