Cloudy With A Chance Of Emo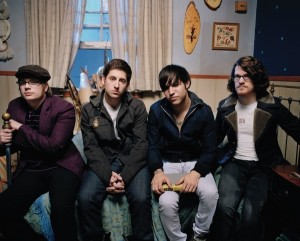 Though beloved, The Dismemberment Plan's breakup several years ago was greeted with joy by headline writers who had a field day with "self-fulfilling prophecy" jibes. With Wilmette's Fall Out Boy on the brink, it's open season again. (Given bassist Pete Wentz's online logorrhea, credit the folks who waded through his rants to uncover this news.)
After the better part of a decade atop the emo heap, there's trouble in paradise. No there isn't. Yes there is. "I don't know the future of Fall Out Boy," Wentz Twittered. Then he told Rolling Stone, "It's kind of like in the Midwest, when you start having snow days. The snow will melt one day. It will melt sooner rather than later." Then, "We were just burned out, and we need a break." Singer Patrick Stump is working on a solo album and sees things differently, telling Spin, "I'm not in Fall Out Boy right now. But one way or another, the band will always be around. Steven Tyler isn't in Aerosmith anymore, but his gravestone will probably say something about Aerosmith." Down, down, sugar they're going down
Take Your Hat Off And Stay A While
Eleven days after the 1970 Kent State shootings, Crosby, Stills, Nash & Young wrote, recorded, and released "Ohio." Forty years later, Illinois Senate President John Cullerton shut the media and public out of a bipartisan budget meeting. Coincidence? It's with the speed of the former and the privacy of the latter that Chicago's "Closed Sessions" have begun. (Maybe.)
A collaboration between Omar Solis, DJ RTC EIC, and Soundscape Studios' Michael Kolar, the idea is to grab hip-hop artists passing through town on tour (and some local folks) to select a beat in front of a video team and then go to work. The whole sequence is filmed, edited, then disseminated online via Rubyhornet.com, and the audio tracks come packaged as multimedia EPs. Participating artists so far have included Bun B, Rhymefest, Kidz In The Hall, and Big Pooh; the first nine-song issue comes out this month as a free download.
Capitol Crimes
They've had it better than most bands, but you couldn't blame the members of OK Go for wearing a permanent expression of "You gotta be kidding me." Under Capitol Records' thumb after the middling success of their label debut, the Chicagoans made gold from lemons by producing their own music videos ("A Million Ways," "Here It Goes Again") and spilling them all over the Internet. Their career was salvaged with little help from their backers, and the band are hailed as pioneers in viral promotion.
And then major-label reality reared its ugly head again. In 2006, Google and the big labels agreed that videos can only be legally posted to YouTube and Myspace and not embedded wherever fans can post them — thus deliberately restricting promotion. (It's the Stone Age with these people.) Minorly sympathetic but greatly undeterred, the band will give their new videos' embed codes to any fan who asks, hedging, "Our label is unlikely to start suing us for putting our videos up," as Damien Kulash told Rolling Stone. That'd be as dumb as suing their customers. Oops.
— Steve Forstneger
Holly Jollie Admitance
Consider a crisis averted. As classic bands dilute lineups but continue to tour, admission to the history books becomes a sticky issue. The Hollies' induction into The Rock And Roll Hall Of Fame could have sparked a peculiar situation as to which members would be on hand to accept the honor. So far, though, there's no bad blood between the former and current Hollies as to who'll be attending the event. It looks like Graham Nash and vocalist Allan Clarke, who founded the band but have been gone for years, will be there, along with Terry Sylvester, who replaced Nash in 1969 and left in 1981. No definite word on whether they'll be performing. The current Hollies still tour throughout Europe with drummer Bobby Elliott and guitarist Tony Hicks as the only remaining original members. They're performing at the London Palladium the night of the Hall Of Fame ceremony.
"The venues have been booked for the last year or so and are well sold, so unfortunately it's not possible to reschedule the dates," Elliott explains via e-mail. "Tony and I are happy for Graham to collect the awards on our behalf. We consider it a great honor to be part of the RRHOF and would like to thank all the folks who voted for us."
— Terrence Flamm