House Of Blues, Chicago
Sunday, January 10, 2010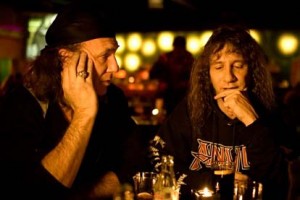 Anvil are fit for the age of Facebook — an old classmate appears before your eyes just the same as they were before (if swelled), giving you a chance to rehash the good times. But the existential crisis is this: Once someone rotates out of your life, is it right for technology or the media to butt them back in?
This much is certain: Anvil would not be playing House Of Blues on Sunday night were it not for a Spinal Tap-style documentary gently mocking their toil. An also-ran even in the '80s, the Canadians have nonetheless carried the torch for Iron Maiden-based semi-thrash, defying the demands of reason to shut things down in the name of dignity. (Reason's dignity and theirs.) Buoyed by this backhanded publicity, Anvil's catalog reached This Is Thirteen last year, thanks to VH1 Classic Records, and might prove a fitting epilogue if they know what's good for them. Despite the influence they rained on the early thrash titans, the trouble with Thirteen is discerning whether it's actually good or whether it's an AC/DC-ish passable. It certainly doesn't embarrass the band — they took care of that long ago.
— Steve Forstneger
Category: Stage Buzz, Weekly