Metro, Chicago
Friday, December 18, 2009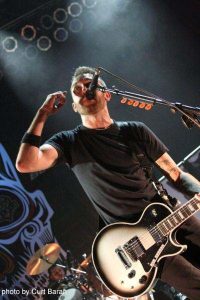 It's weird to think about now, but there was a time before Rise Against was one of Chicago's biggest rock acts. Once upon a time, the group plied their trade for indie label Fat Wreck Chords, and overturned venues like Knights Of Columbus in Arlington Heights. The band's early era is easy to forget, given events like the overpowering Lollapalooza set earlier this year, to speak nothing of being a top-draw worldwide.
So it's no surprise that a return to the band's earliest works, 2001's The Unraveling and 2003's Revolutions Per Minute, one-night-only at Metro, would be so eagerly anticipated. What is a bit more surprising, however, is how much of a normal show Saturday night felt like, with the band turning in the kind of simultaneously earnest and ferocious performance the members have become known for, and would deliver at any other show.
The evening before Friday's Metro stint, Rise Against closed the sold-out fifth night of Q101's long-running annual holiday event, Twisted. It was a celebratory set from start to finish, full of instantly recognizable hits and fan favorites, mostly culled from the band's Geffen catalog. By comparison, the Metro show may have been light on mainstream hits, but nearly every song was rabidly received by a hardcore crowd. Onstage, frontman Tim McIlrath came off unsurprisingly and genuinely appreciative when reflecting on the band's history, but thankfully steered clear of schmaltzy nostalgia when discussing the Fat days or shouting out the group's earliest supporters. Musically, selections from The Unraveling retained their raw edge that Rise Against flashed from the beginning, evident in the volatile riffs of "401 Kill." Revolutions fare, meanwhile, displayed the earliest examples of the band beginning to deftly incorporate melody into unflinching aggression, like in the simultaneously angst-ridden and undeniable "Black Masks & Gasoline." "Broken English," meanwhile, demonstrated Rise Against's talent, even early on, for the kind of relatable and empowering anthems that would become a band trademark, as the room shouted along in impassioned unity.
Friday could have been any other Rise Against event, save for some setlist discrepancies, as the band have proven over the years that they approach each performance with the same raging and uncompromising intensity, be it radio festival or a playing to room full of die-hards. The fact that it accompanied a slew of rare cuts this time is only all the better.
— Jaime de'Medici
Category: Live Reviews, Weekly