In-Renato-Da-Vida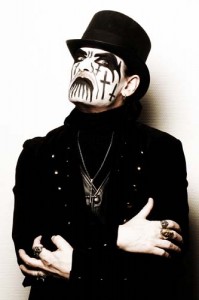 There's no such thing as "too many" live heavy metal venues, so when clubs like White Star (3049 N. Cicero) start dabbling in metal, "Mosh" gets all hopped up — especially when those bookings include bands such as Archgoat, Sweet Cobra, Anal Cunt, and Superchrist.
Some investigation led "Mosh" to a gentlemen who goes by Renato. That's it. One name. The 25-year old isn't a midfielder on the Brazilian soccer squad, though. He's the man behind D.I.Y. And Conquer Productions, the company behind most the evil-ass shows popping up at White Star. Prior to this, Renato booked gigs at Metal Shaker (which is not closed, contrary to rumors), but after falling out with the owners earlier this year ("They presented me with an ultimatum to accept new rules," he says. "I disavowed their revised terms and pulled up stakes along with all of the best shows I had booked for spring/summer.") he found a new home at the 90-person capacity Kelvyn Park bar. Renato books local, regional, and national acts and specializes in the heavy stuff (metal, punk, hardcore) but occasionally puts together electro and acoustic gigs as well. Upcoming White Star events of note include the End Of Days Fest 2 (Abominant, Evil Incarnate, Theocracide, A Tortured Soul) December 19th and Stonecutters, Arbogast, and Blood Of The Tyrant January 15th. D.I.Y. apprehends The Darkroom (2210 W. Chicago) with Drug Honkey, Bridesmaid, and Sun Splitter February 14th (great Valentine's date!). Myspace.com/renatobooking gets ya more info.
THE KING AND I: I'm not all that well-versed in the discography of King Diamond beyond Them. Does that make me less of a metal fan or grant me less authority to write this column? Two months ago, I myself would have said "Fuck yeah, poser." But about a month ago a guitarist from a certain Chicago band with big-time metal cred admitted he knew next to nothing about King's solo career other than the classic Fatal Portrait/Abigail/Them trilogy — just like me! I remember hearing 2007's Give Me Your Soul . . . Please and thinking it was respectable, but anything between 1988 and 2007? Clueless. This has changed. Thumbs up, Metal Blade. King's label from the mid '90s to present, unleashed a flurry of reissues in the last few months. The Spider's Lullabye (1995) and The Graveyard (1996) were both re-released in October, and Voodoo (1998) and House Of God (2000) followed the next month. All four were remastered by King Diamond guitarist Andy LaRocque and include online access to rare live performances and songs. Spider's Lullabye is apparently considered the best post-Them Diamond, but each album has its moments (good and ridiculous). If nothing else, at least you can reference something besides "Welcome Home" next time some springs some King conversation. And that may be sooner than you think. Apparently, we're in the middle of a full-fledged King Diamond revival. Besides the quartet of reissues, two KD tracks ("Cremation" from 1989's Conspiracy and the aforementioned "Welcome Home") appeared on the big-budget, Jack Black-voiced "Brutal Legend" video game, and the first-ever King Diamond DVD could be out by year's end. (Maybe early '10. Metal Blade is tight-lipped with specifics.) Dude even has his own kicks! Skateboard clothing company C1rca designed both KD and Mercyful Fate sneakers for a limited-quantity run, only available through C1rca dealers.
THE KING AND THEM: The dudes behind the new, all-things-metal Web site Reviewsresist.com are down with the renaissance, too. "New" is sorta an exaggeration because the site actually launched back in March, but being a behind-the-times loser, I just discovered it in October after picking up a postcard at Metal Haven. That fact I learned of it through Metal Haven is of no value other than shamelessly plugging Metal Haven, the best goddamn record store in Chicago. If anyone is counting, that was three Metal Haven references in two sentences. Four in three!
Back to business.
There's a million metal review sites online, so why give a Sunday-morning shit about another? First, the gentlemen behind the venture are Chicagolanders. Second, Reviews Resist? Brilliant! Third, the one-through-five rating scale is King Diamond-based, with a five represented by a pic of the Copenhagen shrieker wearing his trademark cape, surrounded by black candles, and holding a skull. A one is a tophatted King in modern-day, post-Gene Simmons lawsuit makeup grimacing with his eyes rolled back in his head. Time will tell if Reviewsresist can carve a niche for itself, score some advertising, and get people to pay attention, but because of the aforementioned reasons, I'm onboard. Good luck fellas. I'm always available for a guest review.
OUT NOW: Lita Ford's big comeback, Wicked Wonderland (JLRG Entertainment) is terrible. Absolutely horrible. S-U-C-K-S. What did I expect from Ford's first album since 1995? I honestly don't know. Some good guitar playing? A few mildly entertaining throwbacks to 1987? A mediocre power ballad or two? Whatever it was, it wasn't this. JLRG didn't even bother sending the whole album, opting instead for a sampler. Generally, samplers include the album's best songs, which makes the fact the five I received are easily some of the worst ever pretty indicative of the album as a whole. Stomaching five songs of Ford's lyrics about how awesome the U.S.A. is ("Patriotic S.O.B."), how awesome she is ("Piece (Hell Yeah)"), and how awesome her husband's (former Nitro frontman Jim Gillette) "sweet nectar" is ("Love") is nearly impossible, like drinking a gallon of milk in an hour. Faced with listening to 15 tracks, JLRG definitely would have received a bill from my therapist . . . and for the handgun I inevitably would have used to put a fucking hole in my skull. Wicked Wonderland sounds like that Dust Brothers-produced Vince Neil record, but worse. Much worse. And if anybody gave a shit about Jim Gillette, Nitro would have been popular 20 years ago (no disrespect Michael Angelo Batio. Nobody plays the quad guitar better), so his contributions to his wife's album only make her attempt at sounding modern more laughable . . . Know what band never makes a bad album? Rammstein. Serious. If you were into 1998's Sehnsucht — containing the band's only U.S. hit, "Du Hast" — at all, then you're into every Rammstein album since, including the most recent, Liebe Ist Für Alle Da (Vagrant). The group is like a naked, muscular, pyro-obsessed, slightly homo-erotic, Eastern-German, industrial Slayer: You know what you're getting. If you've always found the idea of Rammstein shitbird silly, nothing on Liebe Ist Für Alle Da will persuade you otherwise (and "Pussy," a rare Rammstein English-lyric song, will only reinforce the notion). If, on the other hand, you have a thing for the German beefcakes, Liebe Ist, like the group's previous five studio efforts, doesn't disappoint. . . . On paper, a band comprising Scott Kelly of Neurosis, Dale Crover of Melvins, Al Cisneros of Om/Sleep, and the almighty Wino (Saint Vitus, The Obsessed, lots of other good stuff) is a cream dream. Shrinebuilder the band is, essentially, a meeting of psyche/sludge/stoner gods. Shrinebuilder the album (Neurot) is still mortal, though. Despite some absolute crushing passages on "Solar Benediction" and "Pyramid Of The Moon" and numerous poo-your-pants scary vocal performances by Kelly, the six songs still sound somewhat unrealized in potential. Better yet, they sound like songs rehearsed once and recorded in two-and-a-half days, which was exactly the case. Given more time to gel as a (super)group, the next Shrinebuilder will be 100-percent un-fuckable with.
NEXT MONTH: "Mosh" hassled, harassed, and haggled some noteworthy peeps from the local heavy music scene and demanded they hand over their Top 5 Heavy Albums Of The Year. Read who thinks what ranks where in the January issue.
– Trevor Fisher
Category: Caught In A Mosh, Columns, Monthly