The Reality Of The Situation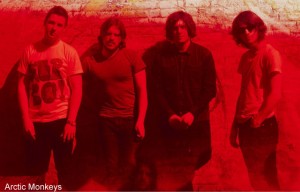 Nick O'Malley says "I suppose" a lot. It's so integral to his speech you wonder if it's the Sheffield equivalent of the Chicagoese "I says" or the valley girl "like." It has the effect of perpetual contemplation and complete detachment from his current emotional condition, as if you could insult his mother and he'd respond, "I suppose I ought to be offended."
Appearing: Sunday, December 6th at Riviera Theatre in Chicago.
Nearing the end of their first tours as international superstars, Arctic Monkeys needed a new bassist. The one they had at the time, Andy Robinson, decided he didn't enjoy the English band's success and wanted out. When word spread that there was an opening in one of the West's most exciting, young rock bands, it's certain the world's available bassists, unavailable bassists, a few guitarists, and Sid Vicious-types with no musical background deluged the band with audition tapes. But the Monkeys weren't looking for a ringer. They wanted someone they knew, someone who said "I suppose" just like them. They wanted O'Malley.
"We all lived in like an estate, they call them in England, a neighborhood," he explains. "I was on the same street as Jamie [Cook, guitar], and Alex [Turner, frontman] lived just around the corner. We knew each other since we were like 7 or 8, just from playing around together and all that kind of stuff. I went to college with Matt [Helders, drums] and Alex as well and we were in the same classes. Living so close, we used to discuss bands and listen to music together and we decided to get some instruments. Then we'd go around to each other's houses and play. I joined a different band with some other friends from school, and these guys started Arctic Monkeys. Later they asked me to join and I was totally up for it."
And that's about as intense as it gets when O'Malley recaps his invitation: no quizzical, "is this a joke?" response; no uncontrollable shaking. He didn't even suppose. Due to his personal relationships within the band, he had a window into their rise and decided they hadn't changed much. His lack of any feelings of surrealism regarding his fortune is nearly surreal itself.
"I was at their first-ever gigs and stuff and practiced with them in their garages," O'Malley describes. "It was a very internal view." At the time, he was juggling a supermarket job and a band called The Dodgems, while entertaining going to university. O'Malley's story must frustrate people who've broken their spirits trying to become famous, because he says even when he was toiling as an unknown musician he didn't really ponder "making it."
He says, "I think when I actually thought about it I was still very young. I assumed I'd be backstage riding around on tigers and you'd have an acrobat bringing you dinner in a very flexible fashion. I was quite far off," he laughs. "Actually, it's just a kind of a holiday where you have to work for an hour a day but you really enjoy your work. Every night's a weekend [though] we often say it's like there are no weekends in rock 'n' roll. A lot of the time I feel jobless, or unemployed. It's difficult to see this as work. Kind of in the back of your mind you think, 'Ah, shit. After this is over I'm gonna have to get a job. Oh, wait. This is my job.'"
You could forgive O'Malley for showing some irritation at any "new guy" line of questioning because he's now Arctic Monkeys longest-tenured bassist. He was more than a passenger as the quartet survived unprecedented hype and almost as much backlash, dutifully adding spine to 2007's Favourite Worst Nightmare and this summer's Humbug (Domino). In fact, the role of bass has largely been his to define for the Monkeys.
— Steve Forstneger
For the full interview, grab the December issue of Illinois Entertainer, available free throughout Chicagoland.