House Of Blues, Chicago
Tuesday, October 27, 2009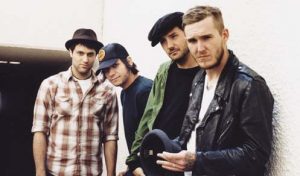 It seems like every few months, The Gaslight Anthem is out somewhere in Chicago. Just this past August, the group played a Lollapalooza after-party at Double Door, in addition to the outfit's set at the festival proper. Before that, it was an April appearance at Double Door, a Christmas 2008 stop at Q101's annual holiday festival Twisted, and even prior to those engagements, a gig opening for Rise Against and Alkaline Trio's fall concert at the Congress.
All of these shows have found the band out in support of its 2008 breakthrough effort, The '59 Sound (Side One Dummy), a record dominated by Springsteen-esque punk anthems of classic cars, vintage radios, and general nostalgia for a greater time, circa half a century ago. Yet the band's support of the record is not as everlasting as it might seem, as the group touched down in Chicago last week for the last dates out behind The '59 Sound, before heading into the studio to begin work on a followup.
Perhaps as a result of such relentless touring, Tuesday night's show found the group turning in a relatively laid-back set, compared to the passionate, sweat-soaked performance a sold-out crowd was treated to at August's Double Door gig. Not that the energy level was entirely absent from the band's side, or that the crowd didn't enthusiastically receive the material either way. The set just lacked a bit of the dire urgency that marked previous engagements, when The Gaslight Anthem might have been fighting harder for an audience's attention and recognition. Similarly surprising was the evening's setlist, with the band emphasizing its 2007 debut Sink Or Swim (the Lawrence Arms-dedicated "1930") and its 2008 followup, the Señor And The Queen EP (which provided the evening with the rawer, more passionate title track). Not surprisingly, the evening's occasional '59 material was all positively met, especially in the soulful "Miles Davis & The Cool," which inspired crowd sing-alongs as it wound down.
While The Gaslight Anthem group has certainly tightened as a live unit, it's begun to sound just the slightest bit too comfortable onstage, relaxed almost. Given the band's catalog, a sense of unrest and urgency can go a long way in a live setting. Perhaps the quartet is road-worn, and would do well to collect itself again before heading out again for months and months at time. Though it can't be said that a break isn't well-deserved, or well-earned.
— Jaime de'Medici
Category: Live Reviews, Weekly