Richard Milne Wants You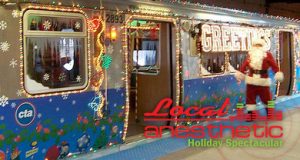 We don't expect you to actually bow down to 93.1-FM, but 2009 is advancing in age, which means it's time for local holiday jingles.
Two Sundays before Christmas, Richard Milne annually dedicates "Local Anesthetic" to "seasonal salutations" from local bands. This year's show goes down on December 13th, and as for criteria, it's best we leave it to Milne:
"Deadline for entries is 5 p.m., Wednesday, December 9th, 2009. The greetings need to be musical. Sound effects are also an option. Bands/performers need to identify themselves collectively or individually, mention 93XRT, Chicago's Finest Rock, Local Anesthetic, etc., and most importantly, include a holiday greeting (Merry Christmas, Happy New Year, Chanukah, etc; the choice is yours). Be as creative as your talent allows. Simple recordings and performances are fine but use your imagination. Keep the sound quality clear and crisp. Poorly recorded pieces are less likely to be given a slot on the show but every attempt is made to include all submissions. Try to avoid references that will date your piece to "2009" because if it's good, I can use it again next year.
Duration: 30-45 seconds in length.
Format: CDs or e-mail digital files, please.
Mail to: Richard Milne, WXRT, 455 North CityFront Plaza, 6th Floor
Chicago, Illinois 60611. E-mail Richard [at] wxrt.com with any questions.