Reggie's, Chicago
Saturday, October 24, 2009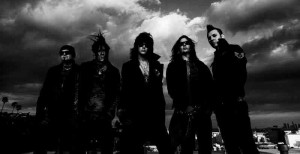 Rock 'n' roll has come a long way since "The Monster Mash," incorporating all manner of ghosts and ghouls — even spawning a genre called "heavy metal." But attempts at ferocity grew proportionately with ridiculousness, which has opened the door for levity via Alice Cooper, Gwar, Rob Zombie, and The 69 Eyes.
Despite promotional photos that make the self-dubbed "Helsinki Vampires" out to be L.A. Guns' "Hollywood Vampires" circa 1992, the Finnish band seem like they'd be most comfortable on an iron stool with a bucket of fake blood than proffering ballads up to Jayne. Having recorded some 10 studio albums mostly in a hair-metal tongue (with the occasional, no-stretch goth-isms), The 69 Eyes have the market absolutely cornered with a career steeped in sophomoric humor and impishly recycled riffs. The hands-down highlight of this year's Back In Blood (The End) is "Dead Girls Are Easy," so long as it doesn't become a rallying cry to decriminalize necrophilia. Even if it's a graveyard smash.
Dommin and The Becoming open.
— Kevin Keegan
Category: Stage Buzz, Weekly