Auditorium Theatre, Chicago
Friday, October 30, 2009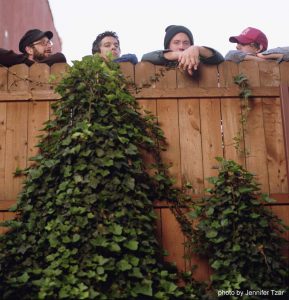 Supergroups have less allure than they used to, because today everyone plays on everyone's records. In the '60s and '70s, many Draconian industry contracts codified label monogamy (at least if you wanted credit); now, comparatively, indie rock and hip-hop are like Playboy-mansion orgies. So what if M. Ward, My Morning Jacket's Jim James, and Bright Eyes' Conor Oberst and Mike Mogis have an album? BFD.
Recording together since '04 but just now getting their cringeingly titled debut out of the way, Monsters Of Folk are clearly having fun acting like rock gods — which kind of gives them immunity from critical dissection of their work. Less Crosby, Stills, Nash & Young than Manassas with Oberst as Stephen Stills and James as Chris Hillman, the album works best as a concert souvenir in anticipation of Friday's show. At the Auditorium, it's likely the quartet will taunt each other and flash some serious acoustic jamming, a collaboration infinitely more convivial than, say, Yo-Yo Ma and Itzhak Perlman at the Inauguration.
The album isn't a joke and boasts some spirited moments, but doesn't bear any unexpected fruit. Generally it feels as if Oberst's songwriting dominates, which puts more weight on the material than necessary. James' Pigpen-like reverb cloud is less present, and you kind of wish a more powerful band like My Morning Jacket were behind him on "Losin Yo Head." Ward is practically invisible until his guitar can find openings on "The Right Place," or he narcoticizes "Slow Down Jo." Despite drawing the bottom-right corner on the cover and being the least recognizable name, Mogis' production holds the project together. He casts a dreamlike haze over the proceedings and chimes in with timely bits of Wurlitzer, baritone guitar, ambient effects, and mandolin when this midtempo slogfest needs them most.
— Steve Forstneger
Category: Stage Buzz, Weekly