Seymour Duncan
DejaVu Tap Delay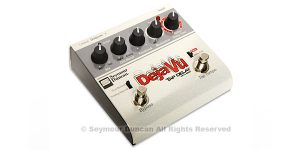 Seymour Duncan recognized the unique sound achieved by some '70s and '80s guitar players with their noisy, druggy, and fussy analog delay pedals so they invented the Deja Vu, combining the best of both digital and analog. To control the delay technique for the modern era, it features a Tap Tempo feature to match the delay time to the tempo of the music. Its Ratio Control feature gives guitarists multiple delays for each press of its Tap Tempo footswitch, while the red flashing LED helps keep the band in time. Included is a Modulation control that lets you add a flange/chorus effect to the time delay. Two insert jacks are included on the Deja Vu. The Feedback Insert lets an external processor be included in the recycling path, so that the processor's effect becomes more intense at each regeneration. The Wet output/loop jack works on the sound after it leaves the recycler, allowing custom tweaking of the overall tone of the wet signal before it recombines with the dry signal. For Pink Floyd or a Mars Volta super-stereo effect, guitarists can connect a second amp to the stereo output to hear an incredible, ethereal, and space-filling psychedelic tone. Seymour Duncan's Deja Vu will make your audience think you're on drugs without the inconvenience or expense of actually being of ingesting them. Expect a price tag of $349. Visit www.seymourduncan.com for details.
LAVA Cable
Retro-Coil Instrument Cable
Perhaps inspired by the same psychedelia that got Sey-mour Duncan going, Lava Cable has released its new and improved Retro-Coil cable that's 5 feet shorter than the initial version (20 feet) to better minimize the slightly noisy effect of "high capacitance" common in all-coil cables due to the large amount of copper used. The Retro-Coil now comes in purple, black, and white with additional cool colors coming soon. Using a special, oxygen-free copper conductor and G&H Ultra-High Clarity plugs, this Edgar Winter-inspired cable delivers improved sonic performance for a coiled cable. Lava Cable's goal was to design a light and quiet product that fits in any guitar case. Unlike their Chinese-made competitors, this cable is completely made in the good 'ol U.S.A. The new Retro-Coil retails at $64.95. Unique features include a silent plug to straight or right angle, straight to straight, right angle to straight, and right angle to right angle. As with all Lava Cable products, the Retro-Coil comes with a lifetime warranty.
JET CITY
Saldano Series Amps
Attention Saldano Amp fans: Jet City Amplification has come out with its all-new "design by Soldano" lineup of all-tube guitar amplifiers. "Our keep-it-simple approach to tube amp design speaks for itself," said Michael Soldano, cofounder of Jet City in a press release. "These new amps offer my classic Soldano tones at a killer price – I'm proud to put my name right on the front."
"At just $299, our JCA20H, 20-watt all-tube class A/B head, has the tone, good looks, and rugged construction you would expect to find in an amplifier far more expensive," added Dan Gallagher, co-president. Saldano and crew are following the lead of several other other indie musical instrument manufacturers: Keep it simple in design and price.
— David Gedge