Where Did Our Love Go?
A Roundtable Discussion With Out Of The Box Records And Friends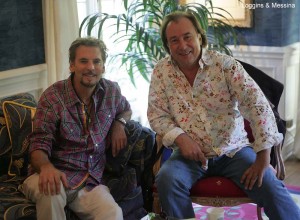 Between constant changes in the music industry, specifically the way tunes are purchased, swapped, distributed, and promoted, there was plenty to chat about when Out Of The Box Records hosted a recent Rock And Roll Brunch. To coincide with the finale of this year's Ravinia Festival, the label's managing partner, Chris Stewart, opened up his North Shore home for an afternoon of drinks and dialogue. In addition to staff and local industry insiders, he also invited several famous friends, including Out Of The Box's flagship artist Dave Mason (co-founder of Rock And Roll Hall Of Famers Traffic turned solo star), Kenny Loggins and Jim Messina (who've spent this fall on tour with Mason), plus Terry Stewart (President and CEO of the Rock And Roll Hall Of Fame And Museum).
"The industry is so fouled up right now that you have people who first found fame in the '60s and '70s with no label to go to," Chris Stewart says of his decision to jump on board with the label (though he splits time as CEO of the proprietary trading firm Gelber Group and on the National Board Of Trustees for the RRHFM). "They haven't lost any of their talent, it's just that they have nowhere to go. Our whole business model is to be in partnership with the artist and also to bring music back to Chicago. It's kind of become this lost sister to L.A., New York, and now Nashville. Chicago has such a rich musical culture, in not only the blues, but with so much talent, which is why I got involved in the record business."
Thus far the label's signees include Chicago Blues Reunion, Freddy Jones Band, and Harvey Mandel (among others) with current focus on Mason's 26 Letters And 12 Notes, which finds the guitar slinger grinding away with bluesy fury alongside guests like Sheila E. and Willie Nelson. "It's probably one of the best I've ever done and I feel like I'm at my peak vocally and guitar wise," Mason reasons. "All of the [late-night] TV shows are closed to someone like me, plus radio's a disaster now that it's so homogenized, so it's very hard and can be frustrating. But I've become a full-fledged salesman on stage where I say, 'I have some CDs here if you'd like to buy one tonight.'"
In the case of Mason and Loggins & Messina (plus Loggins as a solo artist), their touring itineraries are as busy as before. While they're all making new music, diversification is the key to cracking today's tricky marketplace, which in the case of Loggins, includes a recent record deal with Walt Disney Records to focus on the family market. It might not match the soundtrack days of Footloose, Caddyshack, or Top Gun, but the new All Join In completes a trilogy of sorts to 1994's Return To and 2000's More Songs From Pooh Corner.
— Andy Argyrakis
For the full story, grab the November issue of Illinois Entertainer, available free throughout Chicagoland.