Blues Blowout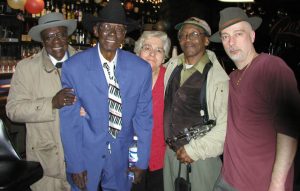 August and September brings a cavalcade of activities for blues fans. From a rare Pinetop Perkins appearance, to a Chicago blues challenge and classic record reissues, blues lovers can enjoy a blues blowout over the coming weeks.
Perkins, the 96-year-old piano master who represents the last great, traditional Delta bluesmen, played at Rosa's Blues Lounge in August. Born Joe Willie Perkins in Belzoni, Mississippi, he started playing guitar and piano in honky-tonks at 12. After a fateful encounter with a knife-wielding chorus girl, he sustained severed tendons in his left arm, wiping out his guitar skills and leading to a piano focus from the '40s on. Perkins built his skills with Sonny Boy Williamson on the "King Biscuit Time" radio show and touring with slide-guitar master Robert Nighthawk. After working with B.B. King and Earl Hooker throughout the South, he recorded his seminal version of Pinetop Smith's "Pinteop's Boogies Woogie" at Sun Records in 1953.
When Perkins replaced Otis Spann in Muddy Waters' Band in 1969, he gained the acclaim for commanding the ivories that would increase with each decade. It wasn't until he was in his 80s that Perkins decided to ditch his sideman label and go solo. For more than six decades, he has been the master blues and boogie pianist, garnering Grammy nominations, a lifetime-achievement award ,and a National Endowment For The Arts National Heritage Fellowship.
The artist represents the last living link to the golden age of post-war American blues, a time when the Delta acoustic and the Chicago electric met and merged. Any chance to hear a piece of this living history should never be missed. "Pinetop is one of the architects of the Chicago blues," says Rosa's owner Tony Manguillo. "He was behind the scenes creating the foundation and he helped set the standard for the Chicago blues sound. When it comes to Chicago blues, you can't get any deeper than Pinetop."
As far as the Chicago blues legacy goes, the Windy City will finally make its mark on the International Blues Challenge. The 26th-annual, Memphis-based competition between blues musicians from around the world has not included Chicago representation for more than a decade. Over the years, the contest has included acts from Nepal, Taiwan, Finland, and Croatia, but not one from the home of the blues. That's mainly because musicians must be sponsored by a local blues foundation and, until last year, Chicago didn't have one.
Now we have The Windy City Blues Society (www.windycityblues.org) and a shot at demonstrating Chicago blues power. The second leg of the Chicago Blues Challenge will unfold at Rosa's on September 10th, when the winner from the first will square off against fresh competition. The final International Blues Challenge contest will kick off in Memphis, January 20th.
The WCBS will also sponsor monthly meet-ups for blues fans to gather and listen to their favorite music. According to society member Black Jack, the gatherings will solve several issues. "There are a lot of blues fans that are solo and don't always have someone that they can go to the clubs with, so this gives them the opportunity to make and meet new blues friends and see some great shows," he says. "We're also trying to get more people to go to the shows especially since attendance at some clubs is thin or down at times." New members can also join the Blues Society at meet-ups. Visit it online for times and locations.
Rabid blues-guitar fans like me will rejoice with two recent releases, but music lovers in general are bound to be happy. I attended Stevie Ray Vaughan's last concert at Alpine Valley in 1990 and the energy and emotion from his performance will always haunt me. Traces of the same magical riffs echo throughout In Session (Stax), a 1983 reissue of a live recording of Albert King with SRV. King was one of Vaughn's idols, as anyone who has listened to the Texas slinger's first two albums can clearly discern.
In 1983, King was a towering blues legend and Vaughan was just breaking into the mainstream with a blistering turn on David Bowie's "Let's Dance" and the release of his acclaimed debut, Texas Flood. But King wasn't even sure who Vaughan was until he walked into the studio and recognized him as "Little Stevie," the skinny kid who hovered around every time King passed through Austin. The resulting recording is a demonstration of the mutual respect and fiery interplay. Fittingly, it is mostly King's album, with Vaughan restraining his legendary showmanship for nuanced fretwork on "Call It Stormy Monday," "Blues At Sunrise," and "Don't Lie To Me." The only time Vaughan leads a song is on his signature "Pride & Joy," when his fiery shuffle meets King's thundering Flying V. This is supposed to be the only known recording of the two together and represents the master and star student well.
Tommy Castro released his 12th album, Hard Believer (Alligator), in August. A reliable mix of blues, rock, and R&B, the dozen tracks offer some solid grooves including the soulful title track and the retro "Monkey's Paradise."
— Rosalind Cummings-Yeates
Category: Columns, Monthly, Sweet Home