Pod-A-Palooza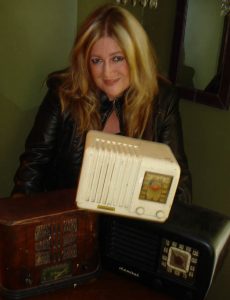 Steve Dahl unveiled his new weekday webcast September 8th (www.dahl.com), just after deadline time. The CBS Radio-sponsored show allows Dahl a chance to talk to his fans – something he hasn't been able to do since CBS took him off WJMK-FM (104.3) late last year, and he won't be able to return to the airwaves 'til his contract expires in mid-2010.
But former "Steve Dahl Show" co-host (2002-2007) and 23-year rock-radio veteran Wendy Snyder beat him to the punch, launching her own weekly podcast with husband Jimmy "Mac" MacInerney on August 24th.
"I am the mother of two boys (three if you count Jimmy Mac), an avid hypochondriac, and kind of a bitch, if you want to know the truth," explained Snyder on her site, snyderemarksradio.wordpress.com (where you can also hear the show). Snyder got her start in Chicago radio at WLUP-FM, and has worked with Garry Meier, Kevin Matthews, and Bill Leff. She currently does traffic for Don Wade & Roma's on WLS-AM, where she recently left the weekly talk show "Women Of Mass Discussion" with Maura Myles in order to spend more time with her family.
"When I stopped doing Women Of Mass Discussion, I kind of lost my outlet for all the crazy things I wanted to share with everyone," she said in an interview. "My husband had been podcasting for the past few years. He co-hosts an incredible 'Star Wars' podcast every week, (forcecast.net) and suggested I start doing one myself. So, I wanted him to co-host with me until I got comfortable, and I am comfortable working with him."
Although her favorite musicians include Bob Marley, Elvis Costello, Cyndi Lauper, Molly Hatchet, The Allman Brothers, and White Stripes, the first show was all banter between Snyder and her husband.
"We treat it as a live show, but . . . we sit in the backyard with a couple of cold ones and record the show," Snyder said. "Not exactly the protocol you'd find at your typical radio station. Come winter, you'll find us in our unfinished basement." (Dahl also podcasts from his basement).
On Snyder's first 20-minute podcast, Jimmy Mac ribbed her for trying to maintain her cool rock-chick credentials while being a PTO president and – in her words – "worst mom ever."
Topics on the second episode included the division of labor in the Mac-Snyder household; Wendy fixes the toilet and does the landscaping, while Jimmy mows the lawn and hangs action figures in his "Star Wars" room.
A discussion about Jimmy Mac's aversion to grilling was interrupted again by one of the sons, who had lost a tooth.
"I want to have fun and talk about things people can relate to," said Snyder.
READER'S NEW OWNERS: The New York-based hedge fund Atalaya Capital Management recently took over Creative Loafing, Inc., the bankrupt parent company of the Chicago Reader. Atalaya won a court auction against the founders of the Tampa-based weekly chain – which routed the Reader of some of its best talent after taking it over two years ago.
Atalaya has brought in former Chicago Tribune managing editor James O'Shea as editorial adviser and board member of the new company, and former Pioneer Press chief executive Richard Gilbert as interim CEO. Gilbert has said that investing in talent will turn the company around, while O'Shea said he would advise rebuilding editorial staffs.
Maybe now the Reader has the scratch to hire back some editorial and sales people, as well as top-notch journalists John Conroy, Tori Marlan, and John Borgia so Ben Joravsky will no longer be the paper's sole remaining muckraker.
But it is a hedge fund after all. Isn't its job also to pillage and sell?
ODDS 'N' SODS: The International Federation Of Journalists recently complained that the U.S. military had been monitoring reporters in Afghanistan to see if they were supportive of the American cause. Apparently journalists seeking to be embedded with U.S. armed forces there were being screened first by the Washington, DC-based PR firm The Rendon Group to determine how they may portray the conflict. According to The Stars And Stripes, an independent daily covering the military that broke the story, the government has since canceled its $1.5 million contract with the firm . . . Janet Dahl's Dahl.com blog "Janet's Planet" has morphed into "Janet Dahl, et al" and appears on the Tribune's Chicago Now site . . . Look for re-ousted WLIT-FM (93.9) host Melissa Forman to re-launch her Web site, www.melissaforman.com. Maybe she'll launch a podcast one of these days, too . . . Sam Silk finally started his long-awaited afternoon show at Power 92 (WPWX-FM) on September 14th . . . Last February, "Rebel Radio" became the first full-time heavy-metal radio station in Illinois, when it expanded to daytimes on suburban WPJX-AM (1500). DJ Laura Sigwalt holds down mornings from 6 to noon, while Scott Davidson does the noon to 6 slot. It still airs Sundays on WKTA-AM (1330). More at www.rebelradio.com.
— Cara Jepsen