The Old Switcheroo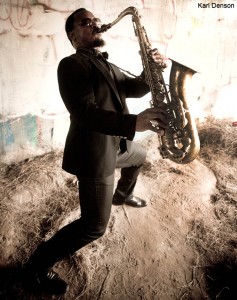 Don't judge a man by his ringtone. While Karl Denson may pull down the funkiest riffs on the sax and flute (take that, Ian Anderson) this side of a Tarantino flick, his main connection to the outside world alerts him of incoming calls with the fervor of a Kenny G track.
Appearing: Saturday, October 24th at Double Door in Chicago.
"I have the most non-energetic phone ring. It's very missable. I'm going to have to change it. It's becoming a problem," Denson admits after a game of phone tag while in transit to the next gig in Grand Rapids, Michigan. "It's like some Japanese Kodo music. It's very slow."
If the idea didn't scream Elton John-level vanity, one could suggest Denson replace it with "Shake It Out," the irrepressible first single off of his latest release, Brother's Keeper (Shanachie). With its hand-clapping, hip-gyrating groove, the San Diego-based artist wouldn't be able to escape the summons of his phone – even in his sleep.
Co-written with Switchfoot lead singer Jon Foreman, "Shake It Out" bursts from the gate, setting the stage for the album's remaining 10 tracks. Hans Christian Andersen surely didn't have Denson and his merry Tiny Universe cohorts in mind when he wrote his children's fairy tale, "The Red Shoes," but the flashy footwear forcing the main character to dance without pause might possess the same magic weaving through all 50 minutes of Brother's Keeper.
The first KDTU offering since 2004 (when a "management debacle" sidelined the band's studio releases), the album combines the amalgam of jazz, reggae, and soul that transforms Denson's live performances into a hot, sweaty mess with layered, thought-provoking lyrics. Whether Denson is extolling the virtue of his lover's mind rather than gawking at her backside ("Where It Counts"), reminiscing over a former relationship that fizzled due to bad timing ("Monica"), or fretting over mounting stacks of bills and the inability to pay them ("Just Got Paid"), he never lets the message get in the way of vibe. Call it the thinking-man's dance party.
Following in the same vein as Marvin Gaye's "What's Going On," the topical "The Drums Of War" only adds to the overall tone of the album despite its proximity to being tagged as a protest song. Penned solely by Foreman, the pummeling, keyboard-driven tune caught Denson's attention immediately as a must-have addition to the record and he doesn't shy from the song's strong religious overtones.
"[Foreman] and I are disgruntled Christians with the whole hubris that's out there about going to war and just not thinking things through," Denson explains. "So, it was just really timely for me because that's kind of how I really feel about the way the country's been going. It's been going in this kind of right-wing militarization and I just don't think that's what Jesus would be doing."
Jesus also gets name checked in "Expressions," along with a motley crew including the likes of Muhammad Ali, Mary J. Blige, Mother Teresa, and the Furious Five. Denson confesses the list of notable personalities conveniently fit into a specific rhyme scheme, but believes they each have a deeper connection to each other.
"Those are people who I felt epitomize the whole thing of totally putting themselves out there so people can see and not be worried about the repercussions of being themselves," Denson says. "And that's really the idea – when something in your heart strikes you that you have a responsibility to yourself and to everybody else to let people know what you're feeling."
Denson offers a very matter-of-fact "yes" to the notion that he deserves to be counted among this illustrious list. "I'm pretty wide open. I feel like I'm going for it – that's kind of the point," he says. "I remember in a Björk interview . . . they were talking about her leaving The Sugarcubes and she said, 'It was a little scary, but if you don't take the chances you never get the candy.'"
With a résumé spanning a prolonged stint as Lenny Kravitz's go-to sax player on his seminal Let Love Rule and Mama Said albums and a co-founding role in the formation of The Greyboy Allstars, Denson knows a thing or two about taking chances. Brother's Keeper may turn out to be his riskiest venture yet – especially the epic, two-part title track, which with its chorus of "Yes, I'm my brother's keeper," basically encapsulates his mantra for life both on and off stage.
— Janine Schaults
For the full story, grab the October issue of Illinois Entertainer, available free throughout Chicagoland.