VARIOUS ARTISTS
Woodstock/Woodstock 2
(Cotillion/Rhino)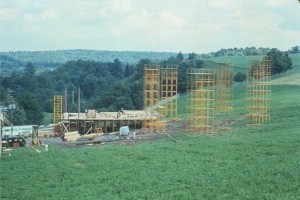 By their very nature, cultural icons achieve a largeness beyond their mortal stature. Mona Lisa's smile, the Liberty Bell, or Alberto Korda's photo of Che Guevera all carry with them a weight of meaning that makes them outsized symbols into which an entire generation pours meaning. Seeing the reality behind the symbol is sometimes like Toto pulling back the curtain – surprising, disappointing, but also unexpectedly liberating.
Forty years later, Oz's open curtain reveals an album that can be disappointing. Canned Heat's "Going Up The Country," for example, is awful. The vocals have a wobbly relationship to pitch while the guitars seem to be playing in a song all by themselves. Crosby, Stills, Nash, & Young, legendary for their inability to harmonize live, prove the legend true on "Suite: Judy Blue Eyes" and "Wooden Ships." (Happily, they then disprove it on the three songs included on Woodstock 2, with "Guinnevere" sounding particularly lovely.) The two songs allotted to John Sebastian are so syrupy they should come with a medical warning to diabetics, and let's not forget the self-congratulatory '60s dreck such as the slanged-out stage announcements ("Like I was telling the fuzz, a lot of freaks, man!"); the excruciatingly boring Crowd Rain Chant; every über-earnest note warbled by Joan Baez. Oh just kill me now.
But there are the surprises: Arlo Guthrie's souped-up, assured version of "Coming Into Los Angeles" serves as a reminder that Guthrie was a much better musician than he is often given credit for; Sly & the Family Stone's blazing medley of "Dance To The Music/Music Lover/I Want To Take You Higher"; the still funny, still pointed "I-Feel-Like-I'm-Fixin'-To-Die Rag." On W2, Jefferson Airplane do a strong – if a little lyrically dated – "Eskimo Blue Day."
And then there are The Cuts That Take The Breath Away: The Who's "We're Not Gonna Take It" (even in its weirdly truncated form, it puts most of the other tracks to shame ), Joe Cocker's "With A Little Help From My Friends," Hendrix's "Star Spangled Banner." These are so good they help define the concert, the era, rock 'n' roll.
It doesn't matter that Plymouth Rock should more accurately be called "Plymouth Pebble" and that if any pilgrim had actually tried to step on it they'd have gone straight into the drink. Not at all. It's still Plymouth Rock, imbued with all the meaning successive generations of Americans give it. So it is with Woodstock. Rhino has done its usual high-quality job bringing both Woodstock and Woodstock 2 back. The sound is, indeed, very good. But it really doesn't matter. These albums exist above remastering and outside new liner notes. They'd be as silly and as impressive, as head-slapping and as jaw-dropping playing on a turntable, all scratchy. They're icons. They're Woodstock.
M.S. Dodds