Schubas, Chicago
Monday, July 13, 2009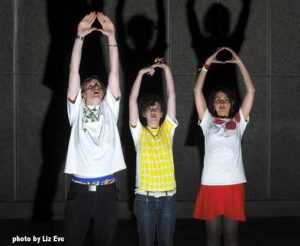 Though the "chu" attached to Mica Levi's first name refers to her hybrid guitar, it's also an appropriate description of her music. It's as if, short on ink for a Rorschach test, she sneezed on staff paper instead.
Jewellery, Levi's Rough Trade debut, ought to come with the sort of warning they post at concerts and plays that use a lot of strobe lighting. The album has the effect of winding your neck like a children's toy, and then setting it loose as you chase the pieces falling into place. Opener "Vulture" growls with a furious attack on an untuned acoustic before meeting the left-field pop interruptions that kept Dirty Projectors off the map for years. Yet somehow Levi never loses you. "Vulture" finds its purpose in a syncopated vocal melody that implies Kim Gordon aping Joey Ramone before spinning out into U.K. garage. "Curly Teeth" fires lasers across your nose, but manages to evoke M.I.A. as an indie-folk princess. Despite its bedroom production, "Golden Phone" feels positively tame with soulful backing vocals and muted (read: restrained) guitar. Its organ-slam intermission tells you how she feels about focusing one on idea for so long, but because the next twist is always as refreshing as the last, you'll find Levi is nothing to sneeze at.
Anni Rossi opens.
— Steve Forstneger
Click here to download "Lips."
Category: Stage Buzz, Weekly