Heaven & Hell
Confidence Game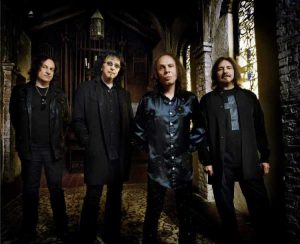 "Nerves don't do me any good, unless you're going to jump off a cliff or something on a hang-glider," says Ronnie James Dio. "I knew it was going to be good, and we knew there was anticipation for this."
Appearing: Friday, August 19th at Charter One Pavilion in Chicago.
The swagger of a young rock star is necessary, predictable, and easily tuned out. But when Dio, the 67-year-old frontman for Black Sabbath incarnate Heaven & Hell boasts, you listen. Decades in the business and legions of fans are notorious for providing false senses of security, but fortunately the singer has recent history to back him up. But first let's back up ourselves.
Crazy as it sounds, most people think of Black Sabbath as the band Ozzy Osbourne used to front in the '70s. In a literal sense, they're right, but that's like calling Joe DiMaggio some guy Marilyn Monroe used to go with. Steppenwolf may have popularized the term and Led Zeppelin cast the template for a sexualized version of it, but for all intents and purposes Black Sabbath defined heavy metal. The riffs flowing from guitarist Tony Iommi's clipped fingers continue to inhabit every strain of the genre's permutations. Osbourne's tenure is rightfully heralded as the band's best, though his last five years were as distinguished for their wretchedness as the first five were for brilliance.
Much has been made of Osbourne's subsequent bottoming out, recovery, and commercial superstardom, but once Sabbath found their footing with former Elf and Rainbow torchlight Dio they continued to vitalize metal as Osbourne became an MTV figure. Dio hasn't been the only post-Ozzy singer for the group — he would intermittently bow out to pursue his full-band Dio project — but his albums with the band, beginning with 1980's monolithic Heaven And Hell, have proven the diminutive vocalist to be strangely talismanic.
Black Sabbath had spent the better part of this decade toiling in Osbourne's shadow for annual Ozzfest appearances, so they took advantage in 2006 to spark another chapter of their legacy by recording three new songs for The Dio Years (Rhino) compilation. Its successful release culminated with news that Dio would continue to front the band not only for the obligatory concert series, but an album as well — hence this year's The Devil You Know, and the topic of Dio's non-existent nervousness, which doesn't even visit him in concert.
"We don't fake the things we do when we record," he says, "but live you're probably going to get it better than it was on the album, because we take chances and it sounds different to us. It's heavier." Another boast? This man isn't human. "When I started trumpet when I was 5, I would get nervous a lot," he finally admits. "We'd have to go to these contests where you'd play a certain solo and win this or that — I thought I was going to crap myself at some of those things. When it comes to what I've become, though, I'm not nervous at all."
It doesn't take too many listens to The Devil You Know to understand his position. The mere presence of "Bible Black" thrusts the album into an upper echelon and practically renders The Dio Years incomplete. Iommi, bassist Geezer Butler, and drummer Vinny Appice remain a demolition crew who operate in lockstep, building to destroy while Dio conjures all manner of spirits around them. "Eating The Cannibals" is almost equally overpowering, a molten confection for fans who like their heroes when they're more D&D than classic-rock footnote.
— Steve Forstneger
For more than just a teaser, grab the August issue of Illinois Entertainer, available free throughout Chicagoland.