Aragon, Chicago
Tuesday, May 26, 2009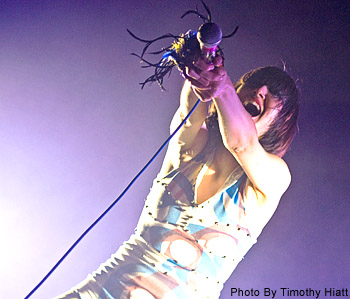 A common concern with success is whether someone gets too big too quickly. In Yeah Yeah Yeahs' case, they went from a venue the size of the Riviera (where this show was originally booked) to the Aragon in a matter of weeks. No wonder frontwoman Karen O. didn't know how to use the stage.
Ms. O is a rarity from the garage-rock revival earlier this decade, because she's a natural showperson. Tuesday night, she had no problem dancing with her microphone cord, clawing at her wardrobe, or striking poses in solo "Vogue" fashion. It was strange, however, that she remained tethered so centrally to the stage. Maybe it was to ensure she'd be near the confetti cannons she would discharge via foot pedal, but she sparsely ventured onto the cavernous Aragon's stage wings until an hour into the 75-minute set.
(And that brings up another issue about YYY's leap into the big time. If they're going to entertain 5,000 people, they're gonna need to put out a little more. In 2003, when the band debuted to Chicago at Empty Bottle, they only performed maybe 20 fewer minutes.)
The band had no problem keeping the Aragon jumping, however. While they conspicuously wrapped all their bigger hits in one four-song cold-cock ("Zero," "Maps," "Y Control," "Heads Will Roll") that straddled their encore departure, the opening minutes were spent watching Ms. O switch from synth-pop tart ("Runaway") and untamed garage-rock savage ("Black Tongue," "Man"). Whether writhing her legs during "Kiss Kiss" in a Stryper-esque ensemble or altering "Cheated Hearts" to call "take it off, take it off" while moving her straps off her shoulders, she magnetized the throngs in front of her.
Through no fault of the band and more the venue, guitarist Nick Zinner's alchemy was often swallowed by drummer Brian Chase's pounding, though when Zinner's melodies were in tandem with O's vocals ("Dull Life," "Honeybear") the electricity was akin to rubbing everyone's hair with balloons. The frontwoman's only fault was an inability to express herself when Chase's drums weren't propelling her hips. "Skeletons" sank from ethereal to plain ether, while she went through "Maps"' motions with a towel around her neck.
The big rooms require a little more.
— Steve Forstneger
Category: Around Hear, Live Reviews, Weekly