Charter One Pavilion, Chicago
Sunday, June 14, 2009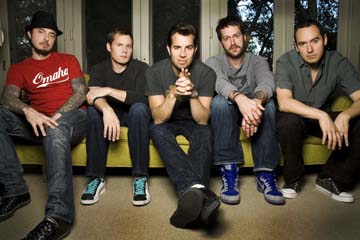 Mother Nature made a lot of people happy Sunday night, as she gave Q101, 311, and a whole slew of music fans a perfect night of weather for Q101's annual "Block Party." The not-quite-sold-out crowd enjoyed a beautiful summer night of quality live music, and judging by the endless "haze" that floated above them, a few other things as well.
 
Omaha natives 311, hitting the road in support of their latest releas Uplifter, took full advantage of the weather and the "happy" crowd, as they blazed through a 90-minute set of their rock-rap-reggae hits. The band appropriately opened the show with recent single "Never Ending Summer" (their unofficial nominee for 2009's summer anthem), and then wasted no time turning to their classic crowd-pleasing mid-'90s hits "Beautiful Disaster" and "All Mixed Up." In fact, throughout the night, they very carefully alternated between their new songs and the classics, which actually fit together nicely. They also managed to nail the perfect combination of laid-back tunes ("Amber," "Beyond the Grey Sky") and big rockers ("Hey You," "Come Original").
 
The biggest hits included new single "Jackpot," a song basically written for live shows with its built-in shouts of "Get up, everybody jump," and classic closer "Creatures," which rocks way more live than it did as the lead single off Evolver. The three-song encore ended with the always satisfying "Down," which was dedicated to "all the old-school 311 fans."
 
Frontman Nick Hexum and his sidekick rapper SA were spot-on all night, proving that removing 311 from the studio doesn't take anything from their sound. Hexum's charisma shone through his vocals and his command of the crowd, and all in spite of his odd look (full-on faux-hawk, and white T-shirt with white jeans). There weren't really any  surprises, other than Chad Sexton's drum solo turning into a "drum quintet" when the rest of the band joined him on their own mini-kits, and Hexum's stage-dive-flip at the end. P-Nut gave his typical impressive bass solo, and the rest of the band basically stayed out of the way so Hexum and SA could wander the stage singing and rapping.
 
While Q101 made a wise choice in nabbing 311 during their re-emergence for this year's Block Party, one could question their choice of openers. Ziggy Marley was the "big name" opener, but his set was no-surprises, no-filler, all-message straight-on reggae. Naturally he covered a couple of his father's biggest hits, including "I Shot the Sherriff," but even that didn't seem to engage the bored crowd. Blame it on the no-nonsense reggae stylings, or maybe on the haze that was kicking off the night and getting everyone nice and relaxed.
 
The other openers were local Chicago act The Insecurities, who won a contest to land a spot in the show, and made the most of their opportunity with a solid set, and The Expendables, who were basically a poor-man's version of 311, borrowing lots of reggae-rock out of their playbook.
— Carter Moss
Category: Live Reviews, Weekly