Lisa Hannigan
Who's Bad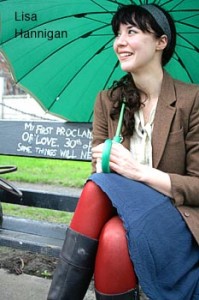 It takes a brave woman to admit harboring a crush on Michael Jackson, but Lisa Hannigan makes no bones about being a young Irish girl falling in love with the King Of Pop — despite his ever-changing physical features.
"I only saw his old face in retrospect. Bad was kinda my first [album], so I didn't think he looked different. Now when you look back you just think, oh dear! And he's such a handsome dude as well. I thought he was dreamy. I thought he was dreamy in Bad, but he's a lot more dreamy before," Hannigan says wistfully in a shrunken voice masking the true power of her pipes. "It's mad — this new generation will just see Michael Jackson as this kind of weird and really horrifying character. Those records were just so incredible and still stand up. Oh dear, it all went horribly wrong."
Jackson's influence remains absent from Hannigan's enchanting solo debut, Sea Sew (ATO). The album's 10 tracks won't inspire spontaneous crotch-grabbing or choreographed gang fights.  She chalks up the lack of a discernable groove to her own dismal dancing skills, but has designs on crafting an irrepressible single.
"I would love to have a song that people couldn't help dancing to. That would be wonderful. Like those songs that you'd put on when you're getting ready to go out. Those kind of magic songs that would just make you feel excited about what's happening next. It would be wonderful to be able to write tunes like that," Hannigan confesses.
Despite an insistence to the contrary, Hannigan's harmonium-drenched flights of whimsy do conjure palpable excitement — whether over the flush of inquisitiveness surrounding the introduction of a new love interest ("I Don't Know") or the pledge of commitment to a long-distance beau ("An Ocean And A Rock"). It's quite a departure from the sullen, fractured compositions her former collaborator, Damien Rice, made famous. Any residue from her time spent in Rice's tortured company congeals only in the clawing "Teeth," otherwise the album could warrant a downright cheery classification. On the other hand, pressing the play button on a Rice track while prepping for a weekend party will elicit a less than stellar evening. "That's not going to be a fun night out," Hannigan coyly admits.
Interestingly, the 28-year-old's past musical dalliances sit firmly in the background on this homespun creation, recorded during two weeks in a barn with a gaggle of friends and instruments that clang, trill, and bump in the night. As Ireland's go-to girl for harmonies both operatic and pornographic (her smoky retelling of the "Babes In Arms"/Sinatra signature tune, "The Lady Is A Tramp," could put Playboy out of business), Hannigan enjoys a fellowship with the country's most successful artists, including The Frames, Bell X1, and Snow Patrol, but it was Rice who brought her into the fold. 
The lithe, ethereal singer met Rice as a first-year student at Trinity College in Dublin and soon dropped out of school to provide the jaw-dropping accompanying vocals on Rice's multi-platinum-selling O. That album would eventually find the pair touring the world over and appearing on talk shows hosted by the likes of David Letterman and Jay Leno. Their tumultuous working and personal relationship, consistently directed by Rice's mood swings, managed to endure into the release of O's follow-up, 9 Crimes. Then, Rice unceremoniously ejected Hannigan from the band just moments prior to the start of a gig — severance and two-weeks notice not included.
The last laugh might belong to Hannigan with the U.S. release of Sea Sew. One imagines the scene in Pretty Woman when Julia Roberts revisits the fashion boutique that originally spurned her with a maxed-out credit card-worth of merchandise in tow and deadpans, "Big mistake. Huge."
— Janine Schaults
For the full story, grab the April issue of Illinois Entertainer, available free throughout Chicagoland.