Gaslight Anthem, Good Old War
Bottom Lounge, Chicago
Friday, April 3, 2009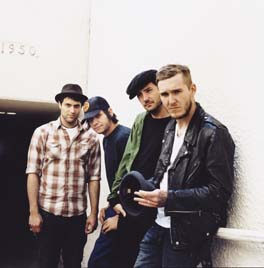 New Brunswick, New Jersey's The Gaslight Anthem might be the most current retro band making the rounds these days. To listen to the band is to witness the group's undeniable yearning for a simpler time, apparent in both their sound as well as their lyrics.
On The '59 Sound (Side One Dummy), the group's second full-length, The Gaslight Anthem are all echo-laden vocals and jangly guitars, inviting comparisons to old dive-bar punk or a hookier Social Distortion. What separate the group, however, are their ever-present melodies, at once undeniable and undeniably simple. It's the perfect accompaniment to frontman Brian Fallon's heavily nostalgic verses. In "Old White Lincoln" he admits, "And I'll always dream, classic cars and movie screens." Fallon echoes a similar sentiment in "High Lonesome," when he reveals, "And in my head there's all these classic cars and outlaw cowboy bands." (Clearly, the man appreciates a good ride.) Live, the group have been known to break out a fitting cover of The Band's "The Weight" that's entirely in line with their own catalog.
Openers Good Old War share a bit of a saloon-rock approach with The Gaslight Anthem, although decidedly folkier. Throughout their debut, Only Way To Be Alone, the outfit strum through consistently twang-hinged material from the upbeat "No Time" to the more shuffled "I'm Not For You." The outfit also emphasize strong vocal harmonies, especially prevalent on the melodic "Window." Between Good Old War's unhurried acoustic approach and Gaslight Anthem's nostalgia-tinged punk melodies, expect a modern take on classic style.
— Jaime de'Medici
Category: Stage Buzz, Weekly