Those Darlins
Metro, Chicago
Friday, March 6, 2009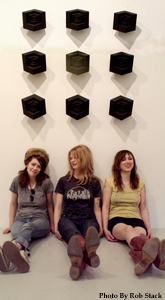 Kelley, Jessi, and Nikki Darlin's Pabst-swillin', air rifle-shootin', Daisy Duke-wearin' rednecktastic image might be exaggerated to better suite Those Darlins' old-time country music. They might not be, too. Both Nikki and Jessi allegedly spent portions of their childhoods in electricity-and-plumbing-less poverty – hardships few of us have encountered. Whichever the case, though, and maybe it's a little of both, it's working.
Tennessee-bred trio came together in 2006 as an excuse to jam on some Carter Family tunes, but eventually started performing and writing together. The latter may be especially surprising given modern-day Nashville's ability to turn out young, attractive female acts (and male, for that matter) that are almost totally dependent on the songwriting, and musicianship, of others. Those Darlins are only "Nashville" in the sense they play gigs there, though. The group actually hails from Murfreesboro, a 30-minute, straight shot down I-24 fromThe Music City. They all really play (Jessi and Kelley handle both guitar and bass and Nikki the baritone ukulele), really sing, and really write. The proof is the three-song Wild One EP, the band's sassy (title track), sloshed ("Whole Damn Thing"), and sprightly ("Snaggle Tooth Mama") debut. The only problem? It's just three little songs – a full-length should come out this summer.
Those Darlins and Hacienda open for The Black Keys' Dan Auerbach.
— Trevor Fisher
Click here to download Those Darlins' "Wild One."
Category: Stage Buzz, Weekly