Susan Werner
Classics
(Sleeve Dog)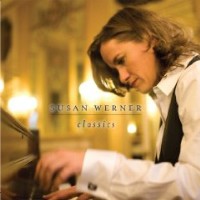 Adult-alternative singer-songwriter Susan Werner manages something unintended on her latest album. A collection of covers, some of what she calls Classics are nearly proven to be anything but.
Appearing: Saturday, March 7th at Old Town School Of Folk Music.
She aims — via chamber-quartet arrangements — to boost sections of these songs that rock's "groove-oriented dynamics" pass over, and Werner manages to slightly reinvent Marvin Gaye's "Mercy Mercy Me (The Ecology)" and The Beach Boys' "I Just Wasn't Made For These Times." But choosing to leap off with America's "Lonely People," she makes you wonder how the public ever let lyrics like these sneak past. Werner strains pretension by adding Vivaldi and Bach flourishes to Cat Stevens' "The Wind" and Paul Simon's "Hazy Shade Of Winter," respectively, and her treatment of "Don't Let Me Be Misunderstood" feels especially slight in wake of Nina Simone's defining version. Most shocking is Bob Marley's "Waiting In Vain," a revered cut whose amateurish lyrics wither when removed from the legend.
5
— Kevin Keegan