P.J. Pacifico
Uncommon Ground (Wrigleyville), Chicago
Friday, March 27, 2009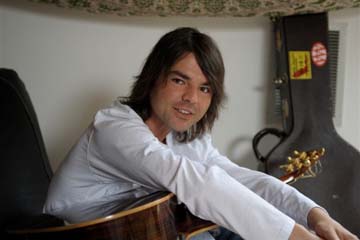 Though we trust P.J. Pacifico's name to be legitimate, their ought to be some sort of formula – like the middle-name/home-street porno-name builder – to create singer-songwriter stage names.
IE Editor Steve Forstneger would be a prime candidate to simply use the porno-builder, which for him yields Matthew Elizabeth, but that won't cut it for everyone. How about your mother's maiden initials followed by the first name of your favorite Griswald?
Whatever. Peej's Almost There EP is every bit as breezy, West Coast as his surname. "The Answer" carries a Jayhawks ring, while the resigned "Jackbone" recalls rock-bottom James Taylor on a sunnier day. Pacifico tries to kick up some dust on the stirring "I'm Home," but he's best on his butt on the living room carpet.
John Petty headlines.
— Kevin Keegan
Category: Stage Buzz, Weekly