La Coka Nostra
House Of Blues, Chicago
Wednesday, March 11, 2009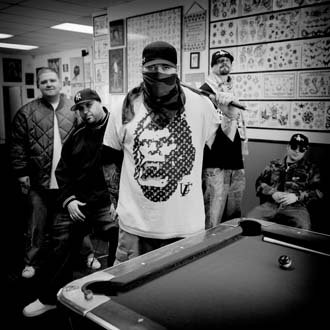 Big B? Blaze Ya Dead Homie? The Kottonmouth fucking Kings? These are the kinds of acts Everlast used to blame for giving white rappers a bad name, yet here he and his fellow La Coka Nostra members are on the Bring Tha Noize tour, sharing a stage with those he would have lambasted 10 years ago.
Nobody's comparing House Of Pain to Public Enemy in terms of importance or talent, but keep in mind that in a pre-Eminem world, being a white rapper was a tough business. House Of Pain were one of the few Caucasian hip-hop groups to earn both commercial success and street cred. "Jump Around" might have been a bit of a novelty hit, but the 1992 self-titled album it was on, as well as 1994's Same As It Ever Was and 1996's Truth Crushed To The Earth Shall Rise Again, was serious enough to win props from Cypress Hill (HOP was a member of DJ Muggs' original Soul Assassins collective), Gang Starr, Brand Nubian, and underground icon Divine Styler. Everlast came up with Ice T's Rhyme Syndicate crew, for cryin' out loud!
That's why, in a sense, it was sad to see Everlast, Danny Boy, and DJ Lethal's new project relegated to a slot between Insane Clown Posse hanger-on Blaze Ya Dead Homie (who, honest to God, ended his set by announcing his "love for the Juggalos") and Kottonmouth Kings, whose silliness is second only to ICP.
Lineup aside, though, the three House Of Painers are clearly happy to be onstage together again as La Coka Nostra, a project pieced together by Danny Boy that also includes Ill Bill (formerly of Non Phixion) and Slaine. The group moved seamlessly between its own (still-unreleased) material like "Get Outta My Way" and "Fuck Tony Montana" to Non Phixion staples such as "The C.I.A. Is Trying To Kill Me" and HOP classics like "Who's The Man." The crowd (lotta teenage boys) seemed either disinterested in Coka or unaware of its resume, as the collective reaction was minimal through most the set. Or at least until the bagpipes of "Jump Around" squealed, that is. Then the light bulbs above the audience members' badly braided heads finally switched on.
That track was one of many to be cut short, possibly because of logistics (no B-Real for "I'm An American," for example, and, Big Left is apparently no longer part of the group, limiting the already limited song selection), or maybe just to keep the crowd's attention. The finale, and official theme, "That's Coke," was evidence of just how good the La Coka Nostra full-length (rumored late spring/early summer release) will be, but, as Everlast noted, the crowd couldn't even keep it up for two verses of "Jump Around," so "That's Coke" went unnoticed by concert goers apparently saving energy for Kottonmouth Kings. Who would have thought?
— Trevor Fisher
Category: Live Reviews, Weekly