Jimmy Eat World
Metro, Chicago
Saturday, February 28, 2009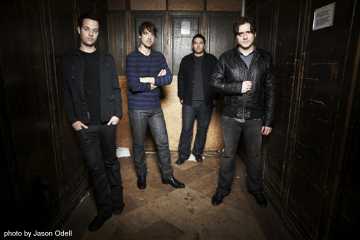 In 1999, a little-known college radio act out of Mesa, Arizona released an album entitled Clarity. To say the record received no fanfare, let alone even any notice, and landed without a sound would be an understatement, just as it would be to note Clarity would stand as the artistic peak of the band's career. Yet something funny happened following the album's release: It gained a cult following. And while the group, Jimmy Eat World, would go on to break out two years later with their 2001's Bleed American, they would never again fully approach the scope, grandeur, or majesty of their early power pop masterpiece.
Saturday's Metro show, a stop on the group's limited-run Clarity 10th-anniversary tour, was somewhat of a delayed reaction. In a rare moment of the universe correcting itself, the early emo pioneers received the response they were due a decade ago. Returning to their early Chicago stomping grounds, the group played to as full a Metro crowd as any in recent memory, all held in rapt attention by the classic album's onstage revival.
It came as little surprise the night was light on surprises. The band performed each track in sequence. Thankfully, a predictable set proved far different from a standard set, as the outfit empowered their material with a sense of confidence and a full, rich, and purposeful sound. More than anything, Jimmy Eat World revisiting their classic material presented Clarity fully realized, while still maintaining the sense of innocence and hope so recurring throughout the album. Old sentiments especially prevailed in moments like the sparkling pop of "For Me This Is Heaven," where frontman Jim Adkins' and guitarist Tom Linton's lifted harmonies pleaded "Can you still feel the butterflies?"
Similarly, the fragile and familiar tinkering introduction of "A Sunday," courtesy of drummer Zach Lind, prefaced one of the night's most intimate moments, before eventually giving way to the urgency and massive collapse of "Crush." By the time the group arrived at epic closer "Goodbye Sky Harbor," the entire room was holding its breath, waiting to see if the band would unleash all 16 minutes of the song's ambient sprawl. And while the track checked in at just less than 10 minutes, it made its mark nonetheless, sputtering out to a glitchy, sample-laden end. And while it might have seemed strange that the group would end their proper set not with a band, but with an electronic whimper, there was clearly nothing left for Adkins and co. to say, much less prove. Ten years ago, they sent out a transmission to a largely indifferent musical public. In 2009, they finally heard back.
— Jaime de'Medici
Category: Live Reviews, Weekly