Asobi Seksu
Empty Bottle, Chicago
Thursday, March 5, 2009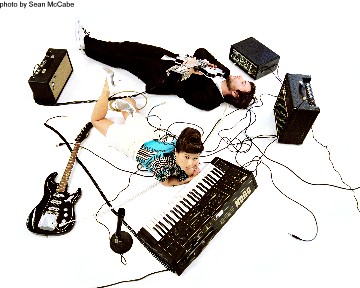 Where a host of bands smear gallons of washed-out guitars and challenge their ethereal vocals to fight through, Asobi Seksu brandish a love for Tin Pan pop and girl groups.
Citrus, released in 2006 on Friendly Fire, wasn't acidic, tart, or much use in battling scurvy, and was all guitars — de facto shoegaze. Fortunately, Yuki Chikudate and James Hanna weren't afraid to pimp their melodies, which gave Asobi Seksu an advantage over wallpapering, post rock-leaning noiseniks who specialize in frigidity. For this year's Hush (Polyvinyl), they shucked most of the guitars, and a lingering shoegaze aesthetic keeps the album tethered when it threatens to float away. The album title incidentally rhymes with "Lush," a band who pulled a similar feat with some success, and Chikudate's siren song frequently calls them to mind as well as dream poppers cohorts Cocteau Twins. Opener "Layers" presents a multi-harmonized Chikudate la-ing and ah-ing indistinct melodies while Hanna refurbishes Petula Clark's downtown with Kyoto elegance. Elsewhere, "Familiar Light" balances old and new Seksu, using a violin-like guitar squall to symphonically draw the shade. Running closely behind, "In The Sky" pulses with playground glee while "Mehnomae" rides the Beach Boys' sleigh in the afternoon sun.
Bell and Resplandor open.
— Steve Forstneger
Click here to stream "Me & Mary."
Category: Stage Buzz, Weekly