The Bad Plus
For All I Care
(Heads Up)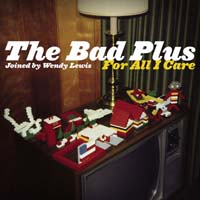 The latest set of jazzed-out alt-rock hits from The Bad Plus suggests it's time for the band to shit or get off the pot.
Appearing: Friday, April 17th at Old Town School Of Folk Music.
For All I Care slices and dices Nirvana, The Bee Gees, and Pink Floyd, throwing a nearly full-time vocalist, Wendy Lewis, into the mix. But Lewis' presence doesn't matter all that much. For their sixth album the novelty of chromatic piano shifts and free-percussion breakdowns has worn thin, so much that they're actually aping what Wilco have already done to "Radio Cure" in concert. As if to counter Lewis' supple voice, The Bad Plus have ratched up the unlistenability, chalking up track after track of grating counter melody and migraine-inducing sadism. (This is progress?) Lewis is left to hang tenuously over "Barracuda," though everyone's in for a faithful rendition of "Long Distance Runaround." But the fact remains The Bad Plus never leave their mark on any of these songs, they simply give them their treatment.
3
— Steve Forstneger