Blue Ash
No More, No Less
(Collectors' Choice)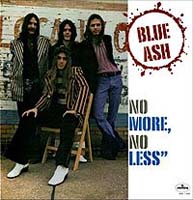 An overlooked, '70s gem. A key to power pop along the lines of Big Star and The Raspberries. Selected by The Guardian as one of the "1,000 Albums To Hear Before You Die." Is it really any good?
It's certainly fun – a debt owed to the Slade influence. But Blue Ash show more than being the original Quiet Riot: No More, No Less traipses through mod ("I Remember A Time") and late Who ("Dusty Old Fairgrounds") with buckets full of four-part harmonies, all the while restraintfully rockin' in a way that recalls the Flamin' Groovies. Way back in '79, Tribune columnist Bob Greene called these Ohioans his favorite American band, but, despite the pleasure quotient, the 1973 album fails to measure up. Too much space is devoted to silly numbers like "Smash My Guitar" and a reliance upon a certain chordal melody that will leave you humming "Let's Spend The Night Together" over any Blue Ash track. It's easy to see the skeleton of a potentially great band – able to see backward and forward simultaneously – but for one record they had the album title exactly right. This is '70s pop rock: no more, no less.
5
— Steve Forstneger