Eddie Holstein
Eddie Holstein
(self-released)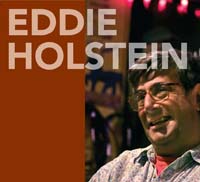 The Holsteins are, if not the first family of Chicago folk music, on the short list of clans in consideration, which makes the happenstance of Eddie's newest offering all the more charming.
Appearing: Saturday, February 28th at Morgan Park Academy.
Of course, their proprietary relationship with The Earl Of Old Town doesn't confer exalted folk singerdom upon anybody. But that's just what makes the album: This self-titled record is a throwback to when folk singers weren't superstars, just a medium. As such, through 17 songs, Holstein is a personable mix of Pete Seeger and the Kingston Trio on this set, recorded at several locations including the Old Town School Of Folk Music and Hogeye in Evanston. His comedy bits are as congenial as his covers (Dylan, Prine, Sleepy John, Dylan), and his own songs reveal little beyond the styles Holstein has been immersed in since his impressionable years. It's in the traditionals, particularly "Twelve Gates To The City," that he sounds most at home. You know vaguely who wrote them; you know many who played them – you know a Holstein had to be involved somewhere.
7
— Steve Forstneger