Aidan Moffat + The Best Ofs
How To Get To Heaven From Scotland
(Chemikal Underground)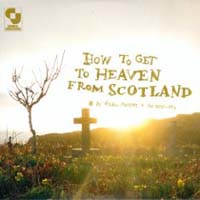 There was really nowhere for the droning, life-is-lost ache of Arab Strap to go. Aidan Moffat has accordingly hijacked his own sound and heaved it back into pop convention.
We'd like to say nothing on How To Get To Heaven From Scotland is anything you'll want you children to ever hear, but it's just not true (O.K., except "Oh Men!" and "That's Just Love"). Moffat may have told the tastemaking Drownedinsound.com site he's "not interested in pop shine," but we'll — as ever — take his words with some salt. Heaven can't disguise its pop virtue and appropriately on tracks like "Athiest's Lament" he breaks with verbose tradition. Granted, its "Stand By Me" pulse fades with such dulling lights as "Lullaby For Unborn Child" looming near, but the latter's existence is the proverbial exception that proves the rule.
6
— Kevin Keegan