Franz Ferdinand
Tonight: Franz Ferdinand
(Domino)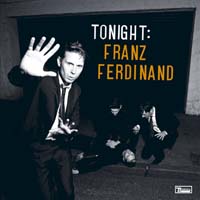 It took nearly four years for Franz Ferdinand to decide more bass, less guitar.
You Could Have It So Much Better, the quickly released followup to Franz Ferdinand's self-titled debut, highlighted the fact these Glaswegians were a rock band. It was a terser, more immediate, if less interesting album that angled their breakout hit, "Take Me Out" for football-stadium P.A.s more than the disco. Tonight aims to redress that. Essentially an extended remake of The Rolling Stones' "Miss You," the album makes sure when you knock your hips to one side that your ass has time to bounce before switching over. If only that were enough.
Lead single "Ulysses" creeps more than saunters — despite an expressed intent to get "hiiiiigh." "Twilight Omens" rewinds immediately back at "Take Me Out," edging the guitars but slinking at an excruciating pace. "What She Came For," "Can't Stop Feeling," and "Live Alone" seem to realize the intent, the perfect forums for Alex Kapranos' endless obsession with come-ons and relationship piddle.
5
— Steve Forstneger