Hotel Café Tour
Park West, Chicago
Wednesday, November 5, 2008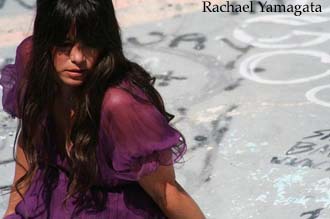 Girls just want to have fun until it's time for a soul-baring, singer-songwriter night. The Hotel Café tour rolled into Chicago's Park West the night following Barack Obama's historic presidential win and quickly sucked the euphoria left lingering from Election Day out of the room. Cheating boyfriends, lost loves, male/female friendships torn apart by a significant other's jealously – all is fair in love and war, and no topic is too maudlin to tackle for the ladies on this tour.
Headliner Rachael Yamagata took turns performing her achingly sincere compositions along with Los Angeles-based chanteuse Meiko, the pixie-dust exuding Thao Nguyen (minus The Get Down Stay Down lads), the jazzy Alice Russell, and New York folkie Jaymay during two hours. Breaking the sets into two-to-three song chunks allowed each performer to stand in front of an equal crowd, but surely annoyed anyone wanting to just see Yamagata.
Thankfully the other lasses on the bill each coupled easy-going charm with palatable tunes. Russell transformed The White Stripes' "Seven Nation Army" into a slow-burning version even Aretha Franklin would envy. Meiko's coy "Reasons To Love You" glistened despite the singer's propensity to make disconcerting John Mayer faces. Nguyen impressed with her groovy beat-boxing skills while Jaymay unsuccessfully tried to instigate a sing-along on the morbidly hysterical "Tragedy."
The night belonged to Yamagata, however, as she shyly exposed material from her latest double-disc album, Elephants/Teeth Sinking Into Heart. The former Chicagoan leaned more toward the raucous Teeth fare with "Sidedish Friend" blazing a trail of bitterness. "Elephants" haunted, while "Duet" evoked log-cabin simplicity even without Ray LaMontagne crooning alongside.
– Janine Schaults
Category: Live Reviews, Weekly