Mudvayne
Two Is Better Than One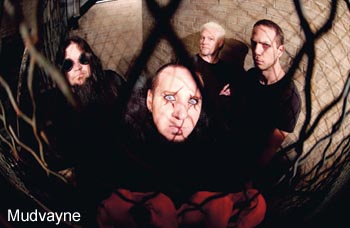 Though Mudvayne's new album, The New Game, comes out November 18th, it actually could have been in fans' hands last November 18th. See, a funny thing happened when vocalist Chad Gray, guitarist Greg Tribbett, bassist Ryan Martinie, and drummer Matt McDonough finished recording the album (with producer Dave Fortman) a year-and-a-half ago: They decided not to release it.
Appearing: Tuesday, December 2nd at House Of Blues in Chicago.
The band could have unleashed The New Game (Epic), watched it chart in the Billboard Top 10 (likely Top 5; 2005's Lost And Found sold roughly 152,000 copies in its first week and debuted at No. 2 behind Mariah Carey's The Emancipation Of Mimi), and launched a big ol' tour.
Instead, Martinie says, Mudvayne chose to stash the material. "I think the general vibe is that it wasn't the right time for that record. That wasn't just us — that was the label, us, and management. I think we just questioned the timing in the industry and other things that were coming out; we didn't want to come out at the same time as Mariah Carey again. Complete joke," he says, laughing. "The vibe with everyone was that it wasn't the right time for it, and I'm glad we waited to put it out. We got to sit on it for awhile and keep it to ourselves. That was kinda fun."
But, aware fans were expecting something, the group gave faithful followers the opportunity to vote online for a track listing, then purged the vaults for rare-and-unreleased versions of the chosen songs (plus a cover of The Police's "King Of Pain") for the aptly titled By The People, For The People. One New Game track, "Dull Boy," was also included as a taste of new material.
"Dull Boy," Gray says, is about a man's sudden plunge into insanity inspired by the barren, snow-covered isolation that surrounded Mudvayne while it was holed up in Idaho during New Game's writing sessions (originally started in Chicago), but some might say it also explains the band's decision to shelve a 99 percent finished album. "We had it remastered, but that's just a sonic, overall adjustment," Martinie says of the version of New Game out this month and the one finished 18 months ago. "There were no touchups to bits and pieces of songs; there were no extra tracks of guitar layered."
After hammering out the details of By The People, Mudvayne did something it hadn't done since releasing its Epic debut, L.D. 50, in 2000: took a break. Gray and Tribbett gave up one outfit for another and joined their bandmates in Hellyeah (including former Pantera drummer Vinnie Paul) to tour behind their self-titled album, while McDonough and Martinie retreated to their respective homes in Wisconsin and North Carolina. (Despite emerging from Peoria, nobody calls the city, or even Illinois, home anymore; Gray lives in Oregon and Tribbett in Arizona.)
So how did the 33-year-old Martinie spend his off-time? Here's a hint, they're napping on his lap during this interview. Correction, most of them are napping on his lap; great danes, after all, aren't good lap dogs, but his two pugs are seizing the opportunity to cuddle (snuggling with dogs is totally metal, dude) with their master on the couch while he's occupied by Illinois Entertainer.
"I did do a lot of that, actually" he laughs when asked how much downtime involved playing with his pooches. "You know, you can learn a lot from your dogs. Absolutely. Every time they get up, they stretch. That's a good thing, right?"
Martinie also did some backpacking, some socializing, a little yardwork, and a lot of reading. One thing he didn't do, though, was pick up his bass guitar. "I didn't play a whole lot during that time," he says, surprising given his virtuoso status. "It's good for me personally when I step away from my instrument for awhile. I come back and the first time I pick it up, there's something that's going to come out. So I intentionally step away from playing for awhile, or short bursts, short bits where I don't play for a week then pick it back up and immediately, that first thing while I'm sitting down and warming up, something is going to come out."
It's a strategy that apparently works for the band as well, because after a few months away, Mudvayne reconvened and yet another funny thing happened: Martinie, Gray, McDonough, and Tribbett wrote and recorded another entire album.
"That break in the middle provided probably the time for the creative juices to flow again, and when we got back together to write the latest record we've done, we were ready," Martinie says. "When we sat down and started going over what bits and pieces people brought together, it came together very quickly, probably the fastest ever writing process for us."
Martinie is coy about when this material will be in stores, but the publicity materials that arrived with The New Game confirm what Internet chatter has claimed all along: 2009. That means two Mudvayne albums within a year.
But, Martinie warns, don't believe everything you read about Mudvayne's newest album, especially when it comes to the title. "Yeah, and the latest record is going to be called Game Over," he says with good-natured sarcasm. "In case you didn't get that memo from all the fan sites and message boards, [people] know what our record is going to be called. This is going to be called Game Over, and I think that's the most amazing, wonderful lie. I love it."
Title aside, if The New Game is any indication, the album not called Game Over will undoubtedly be Mudvayne. Like the band or hate it, Mudvayne has a distinct sound. The group first began courting radio consideration with the single "Not Falling" from 2002's The End Of All Things To Come, but even legitimate hit singles like "Forget To Remember" and "Happy?," from 2005's Lost And Found, didn't veer from the original blueprint — Tribbett's syncopated riffs, Martinie and McDonough's heavy-duty groove, and Gray's hyper-kinetic delivery — they were simply catchier. As is the case with most "heavy" bands, catchy encourages so-called die-hards to pout on Blabbermouth.net, but if they stop and think about it, "Dig," Mudvayne's breakthrough, was basically accessible math metal — Meshuggah with hooks.
"As soon as we get a couple themes going in a song, a couple parts or even the first part, the songs really start to dictate to you what they want to do," Martinie says about the songwriting process. "They become living organisms unto themselves and really guide you as to how they need to be realized or fleshed out. It's a good thing to really pay attention to what the song wants, not what you want or what you think is right, but to really let the song speak for itself and tell its own story."
Not surprisingly, New Game has its "radio-rock" moments, like first single "Do What You Do" (one of a handful of songs to include a guitar solo — a first for Mudvayne), "Never Enough" with its clean-guitar verses and big chorus, and "A Cinderella Story," defined by the quiet-to-loud dynamic so many of Mudvayne's biggest singles have utilized. It even has some L.D. 50-ish moments for those — there are plenty — who refuse to acknowledge any of the band's other albums. The almost-title track, "A New Game," is as creepy and demented as the infamous "Nothing To Gein," with Gray delivering lyrics ("I just want to play/I just want to play a game/one that you've never played before/one that you'll never play again, I'm sure") from the perspective of a child abductor. "Fish Out Of Water" might have a sing-along chorus, but the Tribbett-frantic-picking/Martinie-plucky-bass intro recalls "Death Blooms."
Like each Mudvayne album, The New Game can't easily be pegged one thing. That's certainly not to say the band is Nirvana-groundbreaking or Captain Beefheart-amorphous, only that Mudvayne doesn't fit cleanly into just metal or just hard rock. Martinie calls it metal with "pop methodology." Others use alt-metal. Some just say hard rock. MTVnews.com recently coined the group "metal-leaning hard rock."
Most, it seems, prefer nu metal.
— Trevor Fisher
For the full story, grab the November issue, available free throughout Chicagoland.