ION
TTUSB Turntable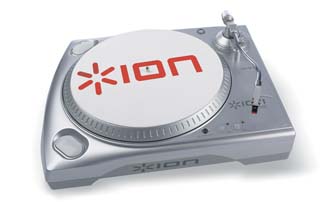 If you plan to purchase a turntable to play records several hours a week, you could find better models in the Technics, Sony, or Stanton lines. But if you're looking to convert your vinyl to digital, Ion, one of the early pioneers of USB turntables, should be at the top of your list. The TTUSB allows users to convert vinyl collections directly to CD or MP3 with its onboard EZ Vinyl Converter 2 (PC) and EZ Audio Converter (Mac) recording software. Features include a free download Gracenote MusicID, which analyzes your vinyl songlist and automatically retrieves album, artist, and song information from iTunes as well as edits and cleans your converted tracks. The TTUSB also includes a switchable phono/line level output for connecting to any home stereo with an AUX input. The turntable retails at $149; visit Ion-audio.com for more details.
Crosley
Keepsake USB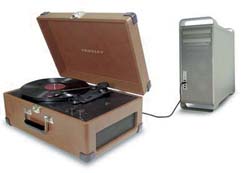 The portable Crosley Keepsake takes the USB-turntable concept a step further by adding an onboard amplifier and speakers in a vintage '60s-style hi-fi enclosure. Like the Ion, it connects to any USB port on a Mac or PC and contains editing software. Its three-speed turntable can play 33, 45, and 78 RPM records. Retail is $199. Check out www.crosleyradio.com for more.
RCA
Discwasher D4+ Record Cleaning System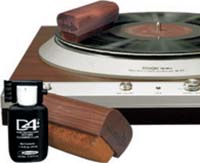 Anyone who discovered rock music as a teen in the '70s and early '80s (before the advent of the CD player) will remember the D4+ Record Cleaning System as the easiest and most cost-effective way of cleaning records. Like the vinyl LP, the D4 never really went away. The D4 pad uses a velvet-like surface to remove dust and lint from your album or 45. But the secret sauce is the legendary Discwasher D4+ cleaning fluid that removes contaminants on the record's surface so the pad can easily and efficiently remove debris. Discwasher still recommends records be lightly cleaned each time before playing, and new records should also be cleaned before their first play. Discwasher claims "although presumed clean, many new recordings still have 'mold release compounds' in their grooves, thus requiring cleaning." Ewwww. Discwasher D4+ costs about $49.99 and can be ordered from a variety of online vendors, including www.needledoctor.com.
Nitty Gritty
Recordmaster
If the manual method of cleaning your LPs is too labor intensive and you have the extra cash to protect your investment, Nitty Gritty record cleaning machines are able to rid a record's surface of film, grease, residue, and dust while eliminating static electricity. Nitty Gritty's Vac-Sweep brush contains thousands of tiny fibers that gently scrub the record's (33, 45, and 78 rpm) grooves. Its short bristles make the most efficient use of Nitty Gritty's special cleaning fluids, and the soft blade protects a record from abrasion. Nitty Gritty machines start at $325. Visit www.nittygrittyinc.com for more details.
– David Gedge