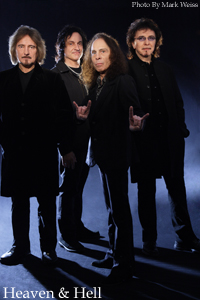 Not to say "told you so," but it's right there in my July '07 Black Sabbath The Dio Years CD review: "The Dio Years would make more sense as a box set with remastered versions of each album."
As much as I'd like to think Rhino read my review and realized the error of its way, the real reason the label released the five-disc, four-album, Ronnie James Dio-era The Rules Of Hell now is to squeeze a few more bucks out of us. Hardly shocking.
So is it worth a few more (Hell retails around $55) of your bucks?
I'm going out on a limb here saying . . . depends.
The classic box-set cliche, paraphrased, is "great for newbies, but not worth it for diehards," and Rules Of Hell is no exception. Like 2004's Ozzy Osbourne-years Black Box, Rhino forgoes any bonus material in the way of B-sides, outtakes, demos, radio interviews, etc., but unlike that 2004 release, the label doesn't even bother with a companion booklet this time. Black Box came with an 80-page beast packed with pictures and text, which makes the new liner notes in Heaven And Hell, Mob Rules, Live Evil, and Dehumanizer seem like afterthoughts. Each of the four albums is remastered, but that's about the only perk this meat-and-potatoes set offers anyone who already owns these individually.
That should be all of you, but some Black Sabbath "fans" still refuse to acknowledge the Dio era, as if the band ended when it dumped Ozzy in '79. But that's exactly why this box set is perfect for you: Now you have the chance to own everything this lineup did, minus the three (hammer-to-the-head heavy) new songs it recorded for The Dio Years.
And you should own everything because everything is awesome. Yes, even Dehumanizer, the 1992 "comeback" (Dio and drummer Vinnie Appice departed before Live Evil was released in 1982). That album sold squat and was panned in reviews, but it really is one of the best start-to-finish efforts in Sabbath – Ozzy, Dio, Tony Martin, or whoever else singing – history thanks in large part to the fact Dio abandoned dragons and demons and focused his lyrical attention elsewhere: man vs. technology. It's a concept that's been done 1,000 times (998 of those in heavy metal alone) since, but then it was still somewhat a fresh (and frightening) idea, especially for Sabbath, which earned its ominous image dealing mainly in the occult.
"At times I did find it difficult," the singer says in Dehumanizer's liner notes about writing the album's lyrics, "but once I found my emotion, and once I understood what I was trying to get across, it became a routine just like any other."
The popularity of this lineup's reunion under the moniker Heaven & Hell (currently recording a new album) has encouraged metal fans to revisit Dehumanizer and give it proper due . . . finally. If you're a jerk like IE Editor Steve Forstneger, though, and still deny Dehumanizer's obvious awesomeness, you don't deserve to know The Rules Of Hell anyway, so scram.
THANKS FOR THE MEMORIES: Promotion company C3 Presents books more than 100 bands – 124 this year – for Lollapalooza each summer, yet somehow rarely finds room for heavy metal. I went to Lolla '06 and Coheed And Cambria and Wolfmother were as close to the genre as Perry Farrell and co. dared venture.
This year Witchcraft was the token metal act (though we're guessing more people saw the Swedes' Bottom Lounge gig that night than their 12:15 p.m. Lolla set Saturday), but it was Rage Against The Machine that caused a huff when – holy shit! – its fans moshed. Though no serious injuries were reported or major arrests made, the "incident" shocked some, including Sun-Times Pop Music Critic Jim DeRogatis, who called the crowd a "violent, thrusting mass of bouncing, seething and sweating souls" before labeling them "boneheaded," apparently for moshing. (To be fair, one of Illinois Entertainer's own writers also unfairly equated moshing to "violence" in our online review.)
I was not at Lollapalooza so I can't comment directly on the level of violence or boneheadedness and also don't condone moshing (despite the column title, I find it very fucking annoying in most cases) but sure as shit wasn't surprised to hear it happened. Nobody saw this coming? Seriously? It didn't occur to anyone that a pit might pop up during Rage Against The Machine? That's like going to a Phish show and being appalled by the scent of marijuana.
To their credit, DeRogatis and other media whose coverage I read never once pointed fingers specifically at heavy metal, probably because Rage isn't a "true" metal band in the eyes of most. But it's close enough for some, C3 Presents probably among them. If the Austin, Texas-based company wants to keep milking the cash cow that is Lollapalooza, they can't suffer negative publicity, meaning one metal band this year will likely be zero next year.
LIVELESS: The Gorgoroth saga got even stranger in July when Regain Records stopped selling and marketing True Norwegian Black Metal – Live In Grieghallen a month after its release. If you haven't followed this black metal soap opera, the Norwegian band announced it was splitting into two factions last October: On one side is vocalist Gaahl and bassist King and on the other, guitarist Infernus. Though Infernus is the only original member among the three and Gorgoroth's label, Regain, sided with him, Norway's patent office awarded ownership of the band name and logo to King and Gaahl. Live In Greighallen (which, despite its title, is not a live album in the traditional, in-front-of-fans-at-a-venue sense, but rather live in a recording studio) was allegedly released without Gaahl and King's consent, a legal no-no. On top of that, the duo claims Infernus and Regain "illegally removed King's bass tracks" and mixed the album without their knowledge. Sounds like a whole lot of to do for such a pointless record, because I'm not sure what the draw of "essential songs from the band's back catalog performed live" in a recording studio is . . . At least labelmates Vader had a good reason to re-record their catalog staples. The double-disc XXV includes 26 career-spanning songs to celebrate the Polish death metal band's 25th anniversary. Every single track was re-recorded this year with the current Vader lineup (and they've had a few) comprising guitarist Mauser, drummer Daray, and guitarist/vocalist Peter (bassist Novy also played on the album before quitting the group earlier this year). Included among the 26 songs is the previously unreleased "Tyrani Piekiel" plus Kat and Terrorizer covers.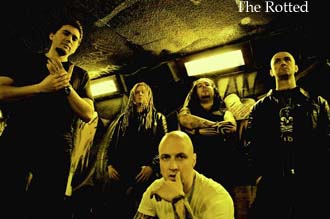 ALBUM TITLE OF THE YEAR: The early leader is Get Dead Or Die Trying (Metal Blade) from the U.K. extreme act The Rotted (formerly Gorerotted). Song titles like "Nothing But A Nosebleed," "Kissing You With My Fists," and "It's Like There's A Party In My Mouth (And Everyone's Being Sick)" are top-notch, too, and better yet, there's some actual backbone behind them. "Kissing" explores music's relationship with violence ("Throbbing Gristle will make me assault mankind/an audio weapon/a hate intensified"), while "Party In My Mouth" ("Its flavor/I savor/in putrid juice I'm drowning") and the title track ("Drenched in my own sick, blood, shit, and piss/shivering in terror I await the next hit") delve into substance abuse. Don't get too serious, though, because Rotted doesn't: The best track is "The Howling," a song about werewolves.
mosh@illinoisentertainer.com
– Trevor Fisher
Category: Caught In A Mosh, Columns, Monthly