Passing Out Needles, Or: How To Stop Worrying And Love Your Vinyl Again
Record Collectors: Start Your Engines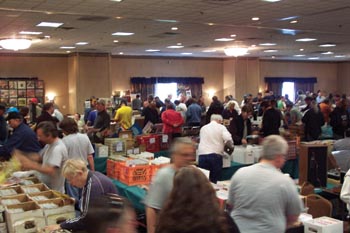 Undoubtedly, you've heard vinyl is back. Maybe, to you, it never went away. There were rumors, however, that the traditional LP was a relic, abandoned for much shinier and more-portable storage units called compact discs. Fifteen to 20 years ago people dumped entire record collections at yard sales and flea markets, propping up the major labels by re-purchasing albums they already owned, electing greatest-hits sets over crisp 45s.
The 12-inch beasts and their 7-inch minions still do good business for local record shops and Ebay sellers, though, and since 1990, they've been the dominant mover at the bi-monthly Chicagoland Record & CD Collectors Show. The word "CD" might cameo in the proper name, but it's largely a concession to modernity.
"It was all CDs," recalls owner John Govi. "CDs were introduced in what, '83 or '84? By the time 1990 rolled around, everyone was getting rid of their vinyl — it was passé. Records were not the format of choice at that time. They were still around, but CDs were the way to go."
So why would Govi, an Aurora native, continue selling horses and buggies when cars were the way to go? "I still had a good amount of dealers who wanted to do vinyl. The other shows were primarily CDs, so I stuck with it."
When tables start going up on September 14th at the Best Western Chicago-Hillside (the old Holiday Inn), a line of customers will start snaking into the nearby church parking lot. Govi's gamble — which began at the Willowbrook Holiday Inn with a brief stop in Oak Brook's Marriott — ballooned to the largest and most-popular such venture in the Midwest.
"We're in Bloomington-Normal," says North Street Records' Rob Streibich, "so I'm in the center of the state. Sometimes we'll do St. Louis, John's show in Hillside, we've done Indianapolis, Peoria, and Champaign, and Milwaukee. John's is the one we just do not miss."
Ken Price, a South Bend, Indianan, traverses huge swaths to peddle in his home state, Michigan, and Ohio. Yet he makes a point of creeping up the west coast of Lake Michigan for five of Govi's six annual bazaars.
"I set up at about 45," he says, having picked a choice number. "I now run five different shows: South Bend, Kalamazoo, Lansing, Ann Arbor, and Fort Wayne. What happened was the guy who used to run the shows, about three years ago — for a variety of reasons — decided to get out of it. I was doing well at all his shows, [and] he asked me if I wanted to take them over. I really didn't want to, but if I didn't they were gonna disappear."
It doesn't seem like the Hillside show will vanish. "I have six shows," says Govi. "I can't see doing any more shows than that. There are times when I'm sold out and I'm sending dealers away. I'd like to give space to everybody. November, January, March I have to push dealers away. One half of the year I'm not big enough; the other half I'm just right."
Far from the perception of record shows meeting comic-book-convention levels of nerdiness, the most commonly purchased albums are all-time classics, picked up by those who are newly building collections. "Most records we have are mainstream," Govi admits. "Don't get me wrong — we have rare stuff. The records that never fail to go are Pink Floyd Dark Side Of The Moon, the first four Led Zeppelin albums, The Doors — gotta have Jim Morrison — and if you've got original pressings of The Beatles' albums you will always sell out."
Streibich agrees, stocking up on such records because they're hot back at the store. "Led Zeppelin, Beatles, Pink Floyd, Rolling Stones — stuff we cannot keep in stock." In fact, North Street often go back home with more than they've sold. "There are certain artists we just cannot get enough in used. I could sell them all day. When we're up there we do a lot of shopping to bring back to Central Illinois."
Both Govi and Price are quick to mention the 60-percent spike in vinyl sales last year — the only physical format whose figures rose. And though Price agrees those figures reflect a very small base, there's no reason to believe it won't continue to surge.
He says, "It's just a general trend. As far as the used-vinyl market, we're always getting some kids who find it's an inexpensive way to get into vinyl. There's nostalgia involved, even for kids who grew up in the '90s. There's been a general shift away from '50s and '60s music; you're seeing mid- to late-'60s, '70s and early '80s — people who grew up in that period are getting a nostalgia thing and going back and collecting the vinyl they might have missed the first time through; music that kind of was a forerunner to current music starts to do better. People look for metal and punk, look for older electronic music."
Govi says his own daughter surprised him with what goes on in her college residence hall (and it didn't involve a case of airplane glue). "She said turntables are all over her dorms and kids are buying used vinyl. Not CDs — REO Speedwagon, The Beatles."
As such, a new booth will pop up in November sporting nothing but turntables and such accessories. "We're gonna be pushing needles," he jokes, saying they'll fit right alongside record supplies, posters, programs, sheet music, autographed photos, DVDs, and those pesky CDs.
Of course, families of four wearing Colgate smiles and pushing shopping carts full of records aren't the norm yet. The core business comes from a dedicated cadre of collectors still searching for the elusive gaps in their anthologies. Price is convinced some of his hardest targets will have to come upon him by accident, so thorough has his four decades of crate-digging proven. But Govi remembers a particular collectors-only surprise.
"You know Jerry Butler?" he asks, referring to the former Impressions member who became The Iceman. "His first big hit, 'For Your Precious Love,' was on a label called Abner. But the first pressing was on Vee-Jay, limited to 500 copies. Finding that first press is almost impossible. A couple years ago at a show in Indiana, this man approached us and wanted to know who our high-dollar buyers were. I pointed him out to one and he had a mint copy of 'For Your Precious Love' on Vee-Jay. He wanted $5,000 for it — he saw that price in a guide. It was eventually bargained for $3,500, but there you go: He just showed up, knew it was worth money, and we had the right guy to make a deal with."
It's the magic of vinyl that CDs will never attain.
"My parents bought records, my brothers bought records," Govi says. "It's in our blood. I treasure all my Beatles records; I have first pressings on every one."
Then why keep this up when satisfaction has been had?
"I do run around a lot," he laughs. "It's a labor of love."
— Steve Forstneger