R.E.M.
Old Tricks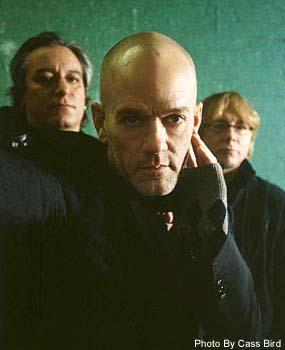 Every iconic act is entitled to a dud or two, and Athens, Georgia's elite R.E.M. are no exception. The jangle-pop purveyors-turned-alternative rock icons were generally consistent their first 20 years, though 2004's sleeper Around The Sun was a black cloud. Beyond the project's sluggish sales and critical lashing, frontman Michael Stipe, guitarist Peter Buck, and bassist Mike Mills admit it wasn't a cornerstone collection, and cranked out a raucous, electricity-doused response via the new Accelerate (Warner Bros.).
Appearing: Friday, June 6th at United Center in Chicago.
"Over the last few years, Mike and Michael kind of got this thing where they wanted to spend a ton of time in the studio, which I hate doing because it's frustrating and boring," admits Buck, candidly. "Especially with the last record, we proved it does not work, so we just kept talking and said, 'We can record quicker and simpler. It should be fun and should sound like fun.' Before Accelerate [I said] 'I'm not going to spend a month in the studio — just a couple weeks — and I'm only recording stuff that Michael's going to sing and in two or three takes. I'm not going to work 'til 4 in morning because nothing ever gets done after midnight!' So basically we spent less time making a record than we did the last one and it works."
And unlike the last effort, the 11 lean cuts have trounced expectations, finding much more flattering critical acceptance and message board buzz. In fact, the scalding alt-rock undercurrent is clearly the band's most immediate since drummer Bill Berry departed in 1997 and arguably the most insistent of R.E.M.'s career, echoing the group's live intensity.
"That was the whole kind of proposal — to capture who we are on the stage," Buck continues, claiming last year's R.E.M. Live CD/DVD "was something I wanted out because we did a bunch of songs and they sounded remarkably better live than on the record. I just wanted people to hear what the record could've sounded like if it hadn't gotten so side-tracked . . . There were good songs on the last record — you just can't really tell — and I think the feeling was 'Let's make a record that really focuses on who we are and what our strengths are.' It doesn't necessarily sound like any record we made in the past, but we're a live band, so let's record it live!"
Long before the band finished Accelerate in sparse studio settings, they tested several tunes during a residency in Dublin, a barometer for what songs would survive the final track listing. Unveiling several of the songs in concert also helped cement the players' parts, in turn keeping studio tinkering to a minimum.
"Mike was saying when we were on the last tour that all of the songs are better like a week after the tour starts, so we should try to do some shows before we finish the record," Buck relates. "We all kind of said, 'O.K., let's do that,' and it really helped us focus. You really learn what doesn't work on stage, what works, what needs to be shortened, and what needs to be sped up. It also gives you the confidence that you're on the right track."
After ironing out the creases in concert, the trio turned to producer Jacknife Lee, known for working with Bloc Party, The Hives, Snow Patrol, Kasabian, and U2. Coincidently, Buck owns most of the albums Lee worked on, allowing for a comfort level long before they ever considered teaming.
"I was familiar with just about everything he's worked on and I can understand how these records were made now," Buck observes. "There's not a lot of trickery involved and they're all performance records, which is something we wanted to go for . . . I kept saying, 'Don't let us get bogged down. If we don't get it on the fourth take, we just need to stop!' Some of the guys want to keep going for hours and it makes you hate the song. His whole thing was, 'We won't start recording until we're so ready that you guys only have to play a song twice.' So we might sit in the studio a couple of hours getting the guitar tones or drum tones, which is fine, but then there's these sudden bursts of energy for an hour, we get to the take and then do some quick overdubs. It's very concise and felt very exciting."
— Andy Argyrakis
For the full article, grab the June issue of Illinois Entertainer, available free throughout Chicagoland.